The Navy awarded HII's Ingalls Shipbuilding division [HII] a $240 million modification for long-lead-time material and advance procurement work for the next San Antonio
-class Flight II amphibious transport dock ship, LPD-32.
The contract includes an option for the actual detail design and construction of LPD-32 that, if exercised, would raise the total value to $1.56 billion. This initial contract work is expected to last through December 2024, but if options are exercised will last through March 2031.
This was a sole source contract modification procured in accordance with federal regulations for only one responsible source.
LPD-32 is set to be the 16th San Antonio-class ship and third Flight II ships that HII will build at its Pascagoula, Miss., shipyard. The Flight II model is designed to replace the Navy's 10 remaining Whidbey Island/Harpers Ferry-class dock landing ships.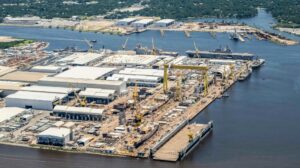 "The funds from this contract will be used to purchase long-lead time material and major equipment across a supplier network of nearly 400 companies in 30 states," Ingalls Shipbuilding President Kari Wilkinson said in a statement.
HII has delivered 12 San Antonio-class ships to the Navy thus far and is currently building two more, the future USS Richard M. McCool Jr. (LPD-29) and Harrisburg (LPD-30) while the future USS Pittsburgh (LPD-31) is set to start fabrication later this year. LPD-30 is the first full Flight II vessel.
The Navy's FY '23 budget request documents said the service planned to end the LPDs at LPD-32 before deciding how to proceed further on amphibious ships, even though the San Antonio-class Flight II vessels were originally expected to fully replace the older dock landing ships.
The Marine Corps' top item on its FY '23 unfunded priorities list was $250 million in advance procurement funds for LPD-33, seeking to continue the program and give longer term notice to industry (Defense Daily, April 1).
The House and Senate defense authorizers agreed with the Marine Corps with both versions of their defense authorization bills including the $250 million for advance procurement funding for LPD-33 (Defense Daily, June 7 and Defense Daily, June 16).