The Navy awarded Huntington Ingalls Industries [HII] a $108 million modification on April 17 as the first option for in-service Littoral Combat Ship (LCS) planning yard services contract work.
Last year, HII beat out Austal USA and General Dynamics' Bath Iron Works [GD] for a contract worth up to $932 million total for LCS planning yard support (Defense Daily, May 1, 2019).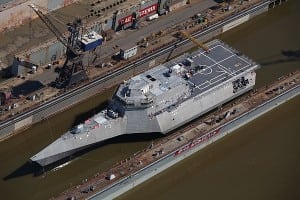 At the time, the announcement listed planning yard work services as advance planning, class engineering, and primary support to modernize ships. HII said they would provide post-delivery life-cycle support to LCSs.
Both competitors subsequently lodged protests with the Government Accountability Office, both of which were denied (Defense Daily, Sept. 10, 2019).
The latest contract announcement said this work covers many items including ship installation drawings development; operating cycle integration program management; research engineering and modeling; cost and feasibility studies; integrated planning yard material support; interface and coordination with regional maintenance centers and fleet entities; design alteration and modification development; and hull, mechanical and electrical engineering standardization efforts.
The work will be split among Hampton, Va. (50 percent), Pascagoula, Miss. (37 percent), San Diego (seven percent), and Jacksonville, Fla. (six percent), and is expected to be finished by April 2021.
In all, $19 million in fiscal year 2020 Nav other procurement and operations and maintenance accounts was obligated at time of award, with over $1 million expiring at the end of this fiscal year.