Last week the U.S. Navy awarded Huntington Ingalls Industries' [HII] Ingalls Shipbuilding an award worth up to $932 million for Littoral Combat Ship (LCS) planning yard support, the Navy said on Tuesday.
According to the service's original solicitation, this support is for modernization, including technical, planning, ship configuration, data, and logistics lifetime support efforts required for the in-service LCSs.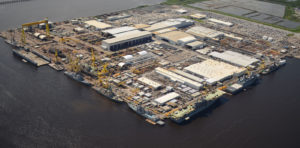 HII said the contract will provide the LCS program with post-delivery life-cycle support including fleet modernization program planning, design engineering and modeling, logistics support, long-lead-time material support, and preventative and planned maintenance system item development and scheduling.
The solicitation explained LCS planning yard work serves as advance planning, class engineering, and primary support to modernize the ships.
The award was not announced in the Defense Department's daily contract announcements because the initial $5 million award fell under the Department's $7 million announcement threshold.
This award includes options over a six-year period that would raise the total value to $932 million. General Dynamics' [GD] Bath Iron Works shipyard was the incumbent and the Navy received three offers, but did not disclose the other competitors.
HII underscored this particular planning yard effort includes a requirement to manage the scheduling of all emergening, planned, and continuous maintenance and other availabilities.
The solicitation specified the contract will support Chief of Naval Operations selected restricted availabilities, drydock selected restricted availabilities as well as scheduled and unscheduled continuous maintenance availabilities), emergent maintenance, repair availabilities, and expeditionary availabilities.
"Our talented shipbuilding team has the resources and program management experience necessary to ensure the post-delivery work on the LCS program meets the requirements and missions of our U.S. Navy customers," Ingalls Shipbuilding President Brian Cuccias said in a statement Wednesday.
HII said most of the work will occur in Pascagoula, Miss. and Hampton, Va. while HII's Ingalls Shipbuilding and Technical Solutions subsidiaries "will also provide waterfront support in the LCS homeports."