The Navy's top acquisition official today said the COVID-19 pandemic could still temporarily close a shipyard and that is partially why the service is requesting billions from Congress to mitigate pandemic impacts.
While speaking to reporters during a phone press roundtable Wednesday, Assistant Secretary of the Navy for Research, Development and Acquisition James Geurts elaborated on a Pentagon memo asking Congress to fund $4.7 billion for the Navy within an $11 billion Defense Department request to mitigate unforeseen pandemic-related expenses.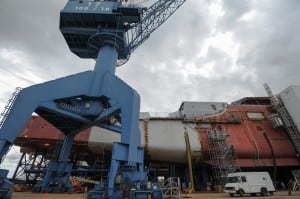 It notably said at least one of the seven main shipyards may shut down in the near future.
The memo was first reported by Inside Defense last week and reportedly estimates the Pentagon experienced $11 billion in cost increases due to supply chain inefficiencies from COVID-19. The memo asks Congress to fund $4.7 billion for the Navy, $4.3 billion for the Air Force, $1.1 billion for the Army, $594 million for the Missile Defense Agency and $190 million for Special Operations Command.
Last month, when Senate Republicans introduced their proposed pandemic relief package, it included $29 billion for the Defense Department. Member of the Senate Armed Services Committee Sen. Roger Wicker (R-Miss.) notably said in a statement that "if nothing is done, the military could have to divert $11 billion from its core priorities to shore up defense manufacturing firms" (Defense Daily, July 28).
On Wednesday, Geurts clarified that when the memo said a shipyard may close due to a COVID-19 impact it should have clarified only temporarily for two to three weeks.
"Some of that was some early analysis, it was really focused on not permanent closing like we're going to shut down a shipyard but that we thought, especially early on, there was potential risk we would have to shut down a shipyard for a period of a couple weeks if we saw a lot of transmission within that facility."
Geurts gave kudos to shipyard commanders and industry shipyards presidents for figuring out how to keep essential activities going on amid COVID without significant community spread akin to issues in some meat processing plants.
If there was community spread in a shipyard, "we might have to temporarily close down a shipyard for a period of time until that got under control."
Geurts said, "COVID is not a place where I think anybody's out of the woods yet in terms of how it might impact us in the future. All I can say is we've got really good communications and we're learning from each other and we're doing everything we know how to do to try and mitigate the risk of that occurring."
However, he noted the Navy and shipyard industry has some experience in shutting down shipyards due to issues like hurricanes and has been sharing best practices with other industry sectors that are not used to having contingency operations for these kinds of events.
"Until we, as a world, figure out how to get our arms around it, I think we've always got to be hoping for the best and planning for the worst. And so we continue to do that."
Geurts added the $4.6 billion figure is still a good estimate for the Navy.
"I would say early it was a para-metric, kind of base estimate, which we have now gotten much more programmatically specific on and so we continue to refine the estimates and refine actions as we see the shipyards executing day to day as well as all our other programs."
Geurts underscored the $4.6 billion request "is not a get out of jail free card" and the Navy has been differentiating performance impacts pre-COVID and due specifically due to the pandemic and has been separating those factors when a program is not meeting its targets.
While the request does not make up for the non-COVID-related costs, he said there are areas where the Navy and its contractors have had to adjust production output due to COVID impacts on the shipyards.
"If we can't do that, then we're just going to have to eat out of future modernization or production to backfill that inefficiency."