The Navy awarded BAE Systems an $83.5 million contract to conduct modernization and maintenance work on the Arleigh Burke-class destroyers USS Carney (DDG-64) and USS Winston Churchill (DDG-81) on Aug. 7, the service said Tuesday.
The contract specifically covers a DDG-64 fiscal year (FY) 2020 extended dry-docking selected restricted availability and DDG-81 FY '21 depot modernization period. The Navy's announcement said the availabilities will include a combination of maintenance, modernization, and repair for both ships.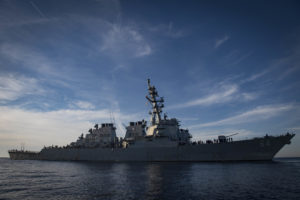 The contract includes options that, if exercised, would raise the total value up to $212 million.
The Navy noted the contract was competitively solicitated via the Federal Business Opportunities website with only the one offer received. The work will occur at BAE's shipyard in Jacksonville, Fla., and is expected to be finished by July 2022.
BAE added that the Carney will be the first of the two ships in the shipyard, arriving in September. It will "undergo extensive repair and upgrade work that will take more than 400 days to complete," the company said in a statement.
BAE plans to drydock the Carney and perform maintenance of the underwater hull, renovation of crew habitability spaces and upgrade shipboard systems. The ship's modernization period is scheduled to be finished by November 2021.
The Churchill is then scheduled for a 390-day maintenance period starting in June 2021. The company will also drydock the destroyer, replace steel structures onboard and support electronic systems upgrades. Modernization of DDG-81 is scheduled to be finished by July 2022.
"The modernization work aboard the Carney and Winston S. Churchill are significant for our Jacksonville maritime team and important for the service lives and mission capability of these combatants. The back-to-back sequencing of work is efficient and beneficial for our employees, our subcontractors and our Navy customer," Tim Spratto, general manager of BAE Systems Jacksonville Ship Repair, said in a statement.
DDG-64 left its previous station of Rota, Spain in June, finishing its time as a Forward Deployed Naval Forces-Europe (FDNF-E) asset. The Carney first deployed to Rota in 2015 as one of the first destroyers placed for forward-deployed missile defense purposes (Defense Daily, July 2).