NATIONAL HARBOR, Md. – The Navy's top acquisitions official said Tuesday the Navy's concern with maintaining the Columbia-class ballistic missile (SSBN) submarine schedule margin is focused on the overall submarine cadence, but if issues emerge the Navy will focus on the SSBN over attack submarines.
Last week the Secretary of the Navy Richard Spencer and Chief of Naval Operations Adm. John Richardson told Congressional appropriators they are
meeting with top officials from the Columbia's shipbuilders General Dynamics [GD] Electric Boat and Huntington Ingalls Industries [HII] this month to make sure they can manage risk in the program and try to build additional margin in to the program (Defense Daily, May 2).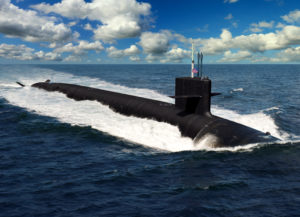 Assistant Secretary of the Navy for Research, Development and Acquisition James Geurts told reporters here the Navy's concern is not so much the Columbia per se, which is still mostly tracking to its schedule.
"It's really looking broadly at the whole submarine enterprise and ensuring as we build in the Columbia we are in a position to succeed with Virginia and Virginia Payload Module."
Geurts said the real issue is not at this instant, but "one of the biggest risks to Columbia is if Virginia gets out of its cadence. So really understanding our combined kind of enterprise throughput to get to that point is really where we're focused right now with the two CEOs."
This means the Navy is looking at five years in the future, when they will be building both the first Columbias and two Virginias.
"Do we have everything synchronized? Submarines are very sensitive to sequencing, and as you saw with Virginia, if you get a little out of sequence, it can have an impact. So we've got to make sure we got all the sequencing right, which includes facilities, workforce, supplier bandwidth, so as we sequence in Columbia we can continue with the cadence on Virginia."
Geurts noted the Navy wants to make sure the Virginia stays on cadence now particularly, delivering two per year even as he underscored Columbia is the priority.
The service wants to make sure there is no asset contention between submarines, "which then causes us to get out of whack there."
When asked what if the Navy and builders do get out of whack, Geuerts said, "Columbia is our number one priority. But a lot of Columbia is built off of Virginia, so that's why we're always looking at that together."