Construction of the future USS Robert E. Simanek (ESB-7) Lewis B. Puller
-class Expeditionary Sea Base ship began with a ceremony on Dec. 1 at General Dynamics' National Steel and Shipbuilding Company (NASSCO) [GD] in San Diego.
ESBs are modular ships that support missions like special operations, airborne mine counter-measures, and humanitarian support. They have a four spot flight deck, hangar and flexible mission deck. The ship is designed around four major capacities including aviation facilities, berthing, equipment staging support and command and control. They are a variant of the Expeditionary Transfer Dock platform.
ESBs have a range of 9,500 nautical miles and can travel at speeds up to 15 knots. It will be able to support aircraft like the MH-53 Sea Dragon, MH-60 Seahawk, MV-22 tilt-rotor Osprey, and H-1 aircraft rotorcraft.
"ESBs are optimized to support the core capabilities of aviation facilities, berthing, special operations, equipment staging support, and command and control operations. The ESBs have demonstrated their ability to enhance the fleet's flexibility and capability as they operate around the world. The addition of the future USS Robert E. Simanek will help continue to provide critical access in the maritime domain," Tim Roberts, Strategic and Theater Sealift program manager at Program Executive Office (PEO) Ships, said in a statement.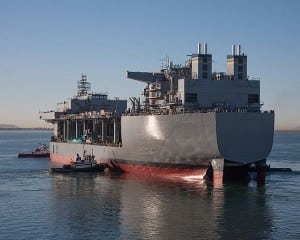 ESB-7 is named after Marine Corps Medal of Honor winner Robert E. Simanek, who threw himself on an enemy grenade, shielding his fellow Marines during the Korean War.
In 2019 ESBs became commissioned naval vessels commanded by a Navy captain with a hybrid crew of naval military and Military Sealift Command civilian mariners to let them conduct a broader set of missions. The Navy said this designation "provides combatant commanders greater operational flexibility as to how the platform is employed."
GD-NASSCO previously delivered three ESBs and is currently building the future USS John L. Canley (ESB-6). This will be the fifth ESB vessel.
"Today, we start construction of the ship that honors the life and service of the ship's namesake, Marine Corps Private First Class Robert E. Simanek. This ship represents the thousands of men and women who will spend roughly 2 million hours building this ship," Dave Carver, president of General Dynamics NASSCO, said in a statement.
NASSCO said ESB-6 is scheduled to be launched in the summer of 2022.
In 2019, the Navy awarded GD-NASSCO a $1 billion modification for the detail design and construction of ESB-6 and 7 (Defense Daily, Aug. 23, 2019).
The Navy commissioned ESB-5, the third Expeditionary Sea Base vessel, last May. (Defense Daily, May 7).
Fairbanks Morse delivered four FM 6L48/60CR engines to GD-NASSCO to be used on ESB-6 last March. The company planned to start construction on engines for ESB-7 also this year. The engines are rated at 6,480 kW and are expected to deliver a total 25,920 kW of installed power (Defense Daily, March 5).