The Navy's top acquisition official said maintenance work on the aircraft carrier USS Gerald R. Ford (CVN-78) is ahead of schedule, which may allow the Navy to reduce work needed after shock trials.
During the most recent window of opportunity, or WOO 10, of maintenance work in-port between at-sea periods, the Huntington Ingalls Industries [HII] maintenance team accomplished 126 percent of the work it planned for the period ending on May 9, Assistant Secretary of the Navy James Geurts told reporters May 20.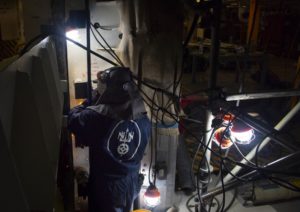 He said that follows similar overperformance in recent periods. The team completed 136 percent of work planned in WOO 8 and 128 percent in WOO 9.
"So we are not only getting more work accomplished than planned, we've actually been buying back work we had planned for our future availability. And so we're about 10 percent of the work we had planned to do at the end of the post-delivery test and trials [PDT&T] period, we've already been able to accomplish," Geurts said.
Geurts explained most of that covers modernization work, upgrading computers, and tank and void inspections.
"And so what was a plan of about 344 of those inspections, we think we will be able in the PDT&T period to knock down a great number of those. We'll have about 137 over tracking right now in the PIA. So really great work by the team in port."
The 18-month PDT&T period covers 11 at-sea underway periods with portside maintenance work in between them. The Navy expects the PDT&T period to be finished by the second quarter of FY 2021. Geurts said they expect to conduct the full shock trials in late spring to the summer of 2021 followed by a planned incremental availability (PIA) to conduct additional maintenance work.
In shock trials the Navy explodes live ordnance near the ship to certify the Ford's hull and systems can survive a hit. After the PIA, the ship will still undergo basic crew training and integrating with an air wing and carrier strike group before its first deployment.
Geurts said a faster pace of WOO work will not change the shock trial schedule, but could curtail the amount of PIA time needed after.
He noted the Navy is locked into a time window for the shock trial due to biology and test range issues "so you don't have a lot of opportunity to move that window around."
However, "what we're really trying to do is work off work we had planned to do on the backside of that, in our periodic maintenance availability that was planned after the shock trial and get any of that work done now while…this team is really clicking .That way we can turn Ford around after that periodic availability faster and not get bogged down after the shock trials."
Geurts said the Ford now typically has over 200 HII shipbuilders working onboard when it is at sea as well.
He updated Ford system statistics, noting while at-sea on Monday it had 167 Electromagnetic Aircraft Launch System (EMALS) catapult launches and Advanced Arresting Gear (AAG) recoveries (cats and traps), breaking the previous record of 135 in a day. The ship has now had over 3,000 cats and traps.
Geurts said in the coming weeks the ship will embark the air wing and start going through cyclic operations. That process will use the recently certified Lower Stage Weapons Elevator 5, which connects the flight deck with the aft magazine.
That elevator was only certified last month after repeated delays for the overall Advanced Weapons Elevators, built by shipbuilding Huntington Ingalls Industries. The Navy expects the next ordnance elevator, Lower Stage Weapons Elevator 1, which will connect the forward magazine to the flight deck, to be ready by the end of FY 2020 (Defense Daily, April 23).
Geurts reiterated the initial two weapons elevators will give full access to the ammo bays while follow-on elevators "are really more about getting additional capacity and redundancy. So, again, we've staged this elevator work to get the elevators working in time to support the PDT&T activities that we had, get all the functionality up and then we'll increase the capacity."