A U.S. Navy flight test recently conducted the first guided release of a Raytheon Technologies [RTX] StormBreaker bomb from an F/A-18E/F Super Hornet, the company said Tuesday.
StormBreaker is the new name for the Small Diameter Bomb II that advances over the previous model by having a tri-mode seeker that uses imaging infrared, millimeter wave, and semi-active laser to defeat moving targets from up to 45 miles away despite adverse weather.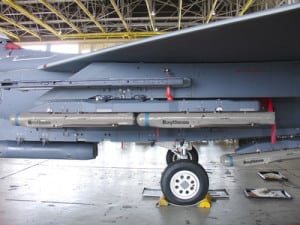 Raytheon said the Super Hornet will be the second fighter to add the StormBreaker when it reaches initial operational capability later on 2020.
The weapon was previously integrated on the Air Force F-15E Strike Eagle by Boeing [BA] in 2018. StormBreaker is also being integrated on the Lockheed Martin [LMT] F-35 Joint Strike Fighter (Defense Daily, Jan. 14).
Raytheon did not disclose when or where the test occurred, but explained in the Super Hornet flight test the StormBreaker safely separated from the jet and "successfully received guidance form the plane, enabling it to be directed to its target while in flight."
"StormBreaker is the only weapon that enables pilots to hit moving targets during bad weather or if dust and smoke are in the area. Super Hornet pilots will be able to use poor visibility to their advantage when StormBreaker integration is complete," Cristy Stagg, Raytheon's StormBreaker program director, said in a statement.
In 2018, the StormBreaker entered operational testing and the company said it expected the weapon to be integrated onto the F-35A Air Force variant by 2022.