The Pentagon's $842 billion budget request for fiscal year 2024 includes a 12 percent increase in spending on munitions, with department officials detailing a priority for "maxing out" production capacity of key weapons.
Senior officials detailed the budget plan on Monday, which features the largest ever investments in procurement and research and development, as the department prepares for competition with China and continues on a spending path to potentially request $1 trillion in the coming years.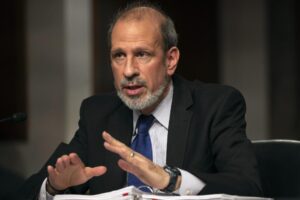 "The FY 2024 budget is the most strategy-driven request we've ever produced from the Department of Defense. And as our National Defense Strategy makes clear, the People's Republic of China (PRC) is our pacing challenge. This budget seeks to meet this critical challenge today, tomorrow, and into the future by providing the resources today to continue to implement our National Defense Strategy and keep our nation safe while delivering a combat credible Joint Force that is the most lethal, resilient, agile, and responsive in the world," Defense Secretary Lloyd Austin said in a statement on Monday.
The White House rolled out high-level details of its FY '24 budget request last Thursday which proposed plans to spend $886 billion on defense, to include a 3.2 percent spending increase for the Pentagon to meet the $842 billion topline (Defense Daily, March 9).
"The secretary believes this is a good number. He's happy with this number. It doesn't buy everything we would have liked to do. We had some other good ideas as a collective DoD group that we could not get in at this level. But we got our highest priorities in and we're happy with that," DoD Comptroller Mike McCord told reporters on Monday.
The Pentagon's budget request for FY '24 calls for $145 billion toward research, development, test and evaluation efforts and $170 billion for procurement, both record investment levels according to the department.
McCord, the department's chief financial officer, highlighted the department's projection it's on a spending path to request a $915 billion budget by FY '28, adding that a trillion dollar topline "is inevitable."
"Just do the math. The budget will hit a trillion dollars…even if it only grew three percent a year. With the numbers [being] what they are, it's inevitable. And I think that might be a psychological, big watershed moment for many of us or some of us, but it is inevitable. It just reflects the growth of the economy among other things," McCord said.
Deputy Defense Secretary Kathleen Hicks on Monday cited the budget request's "substantially expanded" investments in critical munitions as a key focus of the FY '24 spending plan, to include making use of new multi-year contracting authority.
"When it comes to munitions, make no mistake. We are buying to the limits of the industrial base, even as we are expanding those limits. And we're continuing to cut through red tape and accelerate timelines," Hicks said during a briefing. "Our focus on munitions, as I said, is really expanding out our munitions supply base, that industrial base, that's both here in the United States and working alongside allies and partners, and then maxing out production against that with the multi-year procurement authority that we now are able to use that Congress gave us in the last NDAA. That allows us to put a lot more predictability and stabilize and keep warm that production base."
The $30.6 billion munitions request in the budget, a $5.8 billion increase over FY '23, includes investments of $5.6 billion for ammunition, $17.3 billion for tactical missiles, $7.3 billion for strategic missiles, $600 million for technology development and over $1 billion to support the munitions industrial base's efforts to expand production capacity.
"This latest budget expands production capacity even more and procures the maximum amount of munitions that are most relevant for deterring and, if necessary, prevailing over aggression in the Indo-Pacific, such as the Tomahawk cruise missile and its latest maritime strike variant, the extended range Joint Air-to-Surface Standoff Missile (JASM-ER), the Long-Range Anti-Ship Missile (LRASM) and the anti-ship capable SM-6 missile, among others," Hicks told reporters.
While the department's efforts to replenish stockpiles of critical munitions sent to Ukraine is funded through supplemental spending measures and not the base budget, McCord noted the munitions investment area is the most "Ukraine-informed" piece of the request.
"Ukraine has really informed and highlighted the need to up our game here," McCord said. "These are not the kind of missiles that are key to the Ukraine fight. These are key to Indo-Pacific deterrence. What we're trying to do here, and what the deputy has been pushing us to do, is to think about lessons that we're learning today and apply them to the future, apply them to other scenarios and think about what would I like to have done four years ago if I'd have had a crystal ball about Ukraine. Let's try and do some of those things now about things that could be coming."
The final version of the FY '23 National Defense Authorization Act included a provision allowing the Pentagon to use multi-year contracts for select critical munitions procurements.
"For several of these and more key munitions, like air-to-air missiles and heavyweight torpedoes, we're looking to make unprecedented use of new multi-year procurement flexibility provided by Congress. This will help us lock in critical investments, getting the most bang for the taxpayer's buck, send industry a clear demand signal and be even better prepared to respond quickly in future contingencies," Hicks said.
Specific programs where the Pentagon plans to utilize multi-year contracts include for Kongsberg's Naval Strike Missile, Raytheon Technologies' [ RTX]RIM-174 Standard Missile (SM-6) and Advanced Medium Range Air-to-Air Missile, Lockheed Martin's [LMT] Long Range Anti-Ship Missile and Joint Air-to-Surface Standoff Missile – Extended Range.
"We are moving into the multi-year space on munitions in a way that we have not done before. In the past, it was considered that you would buy munitions in much higher quantities generally than airplanes and ships so multi-years weren't necessary and weren't done. But we have still found the industrial base is not where it needs to be on this front," McCord said.
While the munitions listed above are all Navy and Air Force programs, the Army is also planning to do the same for multiple programs while noting it's still working through finalizing how it will use the new multi-year authority.
"We are pursuing, as part of the department-wide effort, enhanced multi-year procurement authority in FY '24 on selected programs. At this point, we are not prepared to be able to identify which ones they are, but we are working our way through that. And certainly, we hope to have more on that as we work through that particular process," Army Under Secretary Gabe Camarillo told reporters on Monday. "There's an administrative process to just get through the paperwork with OMB and we're in the process of finalizing that. So I think as soon as we have a little bit more details in terms of all the exhibits, we'll be able to share all of that with you."
McCord noted his team has been working on a "Large Lot Procurement" program for munitions, which looks at buying weapons in packages rather than executing individual multi-year deals for specific munitions.
"[It's] trying to increase capacity and efficiency and do the upfront ordering or common components that are often a part of multi-years," McCord said. "We are moving into the multi-year space on munitions in a way that we have not done before. In the past, it was considered that you would buy munitions in much higher quantities generally than airplanes and ships so multi-years weren't necessary and weren't done. But we have still found the industrial base is not where it needs to be on this front."