The Association of the United States Army (AUSA) said Monday evening it has canceled its Global Force Symposium and Exposition scheduled for late March in Huntsville, Alabama due to COVID-related concerns.
The organization cited "health and safety reasons and Defense Department travel limitations" as reasons for the decision.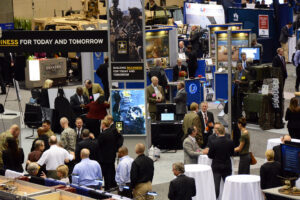 "The continued spread of COVID-19 in the United States makes it impossible for AUSA to hold an in-person event that we are certain doesn't pose a risk to attendees," Ret. Gen. Bob Brown, AUSA's president and CEO, said in a statement. "We don't like making this decision but know it is the right one for the Army, industry and members of the public who were planning to attend."
This is the third year in the row AUSA has canceled an in-person Global Force Symposium, a major defense show where senior Army officials provide updates on the service's major weapon system programs and modernization efforts.
The 2020 show was canceled outright, while last year's version was held as a virtual event.
AUSA did not specify if a virtual conference is in the works to replace the in-person event, which was set to be held March 29 to 31 at the Von Braun Center in Huntsville.
"We really wanted to have this important event focused on Army transformation and sustainment, but we don't want to do this at any risk," Brown said.
As of Monday evening, the Air Force Association is still planning to hold its upcoming annual Warfare Symposium as an in-person event Orlando, Florida from March 2-4, while requiring attendees to show proof of vaccination or a negative test result for COVID-19 and mandatory mask requirements while indoors.