House lawmakers have expressed concerns with the state of the Army's small arms industrial base following the decision to move beyond procuring new M240 machine guns, calling for a report on the potential impacts with shutting down legacy production lines.
The House Armed Services Tactical Air and Land Forces Subcommittee included a provision in its fiscal year 2023 National Defense Authorization Act (NDAA) markup, released Wednesday and set to be considered on Thursday, that seeks information on the Army's plan to transition its long-term M240 machine gun focus away from new production and onto sustainment for individual parts.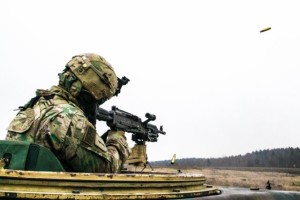 "The committee is concerned about the impact of this strategy on the industrial base and the potential risk of eliminating a production line that would be difficult and costly to reestablish at a later date," the panel writes in its mark. "The committee understands that the M240 provides a vital capability for both the U.S. military as well as for foreign allies that also use the platform. The ongoing crisis in Ukraine has highlighted both the need for active production lines for critical equipment as well as the risks associated with not having them when unforeseen events arise."
The Army included funding in its FY '23 budget request for procurement of M240s, manufactured by FN Herstal, with lawmakers noting the Army has reached its stated procurement objective for the machine gun.
Lawmakers write in the mark that they're concerned the Army is "underestimating risk in the small arms industrial base," calling for a report to be delivered by Dec. 23 that would clarify "the capacity and capability necessary to support current and future DoD and allied requirements."
The report must specifically address the current and short-term state of the small arms industrial base, future requirements for the M240, how the weapon may factor into foreign military sale opportunities and the impacts to the industrial base with shuttering legacy production lines.
The panel is also interested in options that could sustain the small arms industrial base "through the upgrade of legacy systems, such as replacing the existing inventory of M240B medium machine guns with the lighter weight M240L model," according to the mark.
In April, the Army announced it has selected Sig Sauer for the 10-year, potential $4.7 billion Next-Generation Squad Weapon (NGSW) contract to deliver the new XM5 Rifle and the XM250 Automatic Rifle that will fire 6.8 caliber bullets, as the service looks to replace its M4 rifles and M249 Squad Automatic Weapon for its close combat forces (Defense Daily, April 20).
With M240 not covered in the Army's replacement weapon plans with NGSW, the machine gun is likely to stay in service for the foreseeable future.