The Army has started the first soldier assessment for its RQ-7 Shadow drone replacement program, providing the Arcturus UAV JUMP 20 to a brigade combat team for a five-month evaluation.
Officials said operational unit evaluations with the three other competitors in Future Tactical Unmanned Aerial System (FTUAS) program, Martin UAV's V-Bat, Textron's [TXT] AAI Corp's Aersonde and L3Harris' [LHX] FVR-90, will also begin the coming months.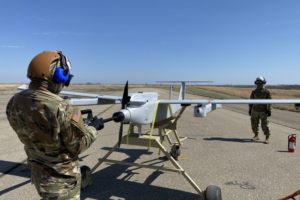 The 1st Armored Brigade Combat Team, 1st Infantry Division conducted the first soldier-operated flight with Arcturus UAV's FTUAS offering on Tuesday, and will now use the system as a surrogate for the RQ-7 Shadow over the course of the evaluation.
"Currently, we need a runway for launch and recovery of the Shadow. With the Vertical Take off and Landing (VTOL) system on the JUMP 20, we don't need any of that, we're working with half the equipment," Spc. Nicolas Miller, an unmanned aircraft systems operator in the 1st Engineer Battalion, said in a statement.
The Arcturus UAV JUMP 20 is the largest of the four offerings, according to the Army, at 210 pounds and an 18-foot wingspan, while still providing a reduced acousting signature compared to the Shadow.
"We're used to screaming at each other and having to use radios in order to communicate. You can stand right next to this aircraft and not even raise your voice," Spc. Christopher McCoy, a 1st Engineer Battalion crew chief, said in a statement.
Last December, the Army announced it had selected five operational units to run soldier touchpoints with the four offerings to gather data needed to refine final requirements for FTUAS (Defense Daily, Dec. 12).
"The assessment utilizes a crawl, walk, run mentality, progressing through operator and collective training, then culminating in brigade level field training exercises and a Combat Training Center rotation," the Army wrote in a statement.
Army officials noted a mitigation strategy was put in place to ensure the first assessment could begin under safe conditions during the ongoing coronavirus pandemic, with similar evaluations taking place before finalizing plans for the subsequent assessments.