The Army is planning a potential demonstration this fall to test how its signature modernization systems, from long-range fires to air and missile defense assets, could form a new "sensor-to-shooter" network.
Gen. Mike Murray, head of Army Futures Command, told reporters Wednesday the test will likely become an annual event as the service continues major modernization efforts, with plans to also begin collaborative efforts with the Air Force in 2021 to work on integration with their Advanced Battle Management System (ABMS).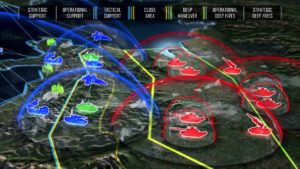 "An individual capability is interesting but the effect is greater than the sum of the parts. There has to be connections between these [systems]," Murray said. "It's not a specific sensor to a specific shooter. That's just thinking too narrow. In the future battlefield, I clearly see just about everything is going to be a sensor."
Murray noted there are no definite plans in place for the "sensor-to-shooter" test, specifying that it would likely be held around August or September in the Southwest and would look to include participation from as many of the Army's eight Cross-Functional Teams leading modernization efforts as possible.
The test will look to begin understanding how the Army can store the massive amount of data collected on the new modernization platforms it will roll out, to include a new air and missile defense command system to precision missiles and robotic vehicles, and how to best distribute that data to the relevant "shooter." 
Futures Command is also assessing how to sustain such an architecture without requiring the massive amounts of bandwidth, according to Murray, who added the ultimate goal is to "shorten the amount of time it takes to get rounds on the target."
Murray said the Army has been discussing integration efforts with the Air Force on its ABMS architecture over the last year.
"I don't think there's redundancies right now. We're going to continue those discussions," Murray said. "I believe ABMS and what we're working with the sensor-to-shooter work are very, very complementary."