Collins Aerospace [RTX] has received its eighth order from the Army to deliver additional AN/PRC-162 two-channel radios, which will be utilized in the service's Integrated Tactical Network evaluation in late summer.
The latest order was placed under the $12.7 billion multi-award Handheld, Manpack and Small Form Fit (HMS) program, which also includes
L3Harris [LHX] and France's Thales.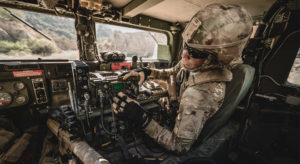 "Our ground radio gives warfighters access to the most advanced networked communication technology available, ultimately leading to improved situational awareness and mission success," Ryan Bunge, the company's vice president for communication, navigation and guidance solutions, said in a statement. "We've delivered superior communications capabilities with our airborne radios for decades, and we've leveraged that expertise to provide a complete, interoperable solution for both ground and air assets at the lowest life cycle cost."
The Army selected Collins Aerospace, along with L3Harris and Thales, for the HMS program in 2016 to find new software-defined radios that could play a critical role in establishing the future Integrated Tactical Network.
A large-scale ITN evaluation is scheduled for later this summer, with the goal of gathering data to inform a full-rate production decision in 2021.
"Collins Aerospace is continuing to work with Army Project Manager Tactical Radios, other HMS program hardware providers, and waveform developers to ensure that the PRC-162 supports execution of a successful operational test for the Army's Integrated Tactical Network this summer," Preston Johnson, the company's director of business development for communication solutions, told Defense Daily.
The AN/PRC-162 software-defined radio is designed with two channels for voice, data and route capabilities and is built to "maintain interoperability with legacy waveforms such as Single Channel Ground and Airborne Radio System (SINCGARS), while leveraging state-of-art waveforms such as Trellisware's TSM waveform and Warrior Robust Enhanced Network (WREN)," according to Collins Aerospace.
L3Harris, which is providing its software-defined AN/PRC-163 handheld radios and AN/PRC-158 manpack radios for the HMS program, told Defense Daily in March it was readying for the ITN evaluation and has also been considering opportunities for new 'anti-jam, low probability of detection' radios for the Army's second tactical network modernization capability drop (Defense Daily, March 31).