SYRACUSE, N.Y.–The Army may procure up to 14 Lockheed Martin [LMT]-built Q-53 radars under the program's new contracting vehicle, according to a company official.
Mark Mekker, Lockheed Martin's program director for Army radars, told reporters on Monday during a media visit here at the company's manufacturing facility that the recently announced, potential $3.3 billion Q-53 contract vehicle will also further work upgrading the radar fleet Gallium Nitride (GaN) and digital antenna capability.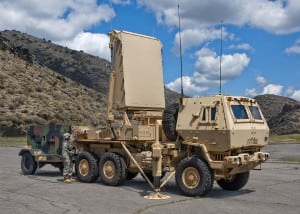 "Our goal is not for a 20-year lifecycle but a 40-year and beyond lifecycle. So a lot of work upfront in that new contracting vehicle will be the GaN retrofit program, the digital antenna upgrade program. But there will also be new production systems that will go on that. The Army is in discussions now to increase their operating objective to add additional systems to the fleet," Mekker said.
Mekker said discussions have indicated the Army is considering procuring between four to 14 new Q-53 radars under the new contracting vehicle.
The Pentagon announced the Army's new Q-53 contracting vehicle, with a ceiling value of $3.3 billion, in late March, noting the deal could cover "deployment to various foreign military sales countries" (Defense Daily, March 31).
The Army plans to enhance its entire fleet of 189 Q-53 radars with the GaN retrofit and eventual digital antenna upgrade, according to Mekker.
"The GaN retrofit program is the first stepping stone to upgrading that radar, which would free up what we call power space. [That provides] additional power so that the distributed digital architecture can now come up into the antenna."
Lockheed Martin said in April 2020 it had delivered the first Q-53 radar equipped with GaN capability to the Army, which Mekker said at the time "will enable the Army to continuously grow and enhance the system's capabilities to meet changing mission needs."
During the media visit, Mekker said the GaN retrofit for Q-53 specifically supports extended range, increased power, while the digital antenna will increase survivability by providing operators greater ability to work in contested environments.
"You need that GaN retrofit to extend that range. For extended range, we've been through all the testing. It's not in what we call a fielded baseline and it's being incorporated out in some fielded capabilities. It's something that can happen where the radar does not have to come back [here] to be able to do that"
In 2019, the Army awarded Lockheed Martin a new contract to deliver 15 Q-53s as well as a separate deal to enhance the radar's counter-UAS capability with the ability to deliver "simultaneous counterfire, CUAS and air surveillance" (Defense Daily, Aug. 5, 2019).
The Army first fielded the Q-53 in 2010 and has used the advanced electronically-scanned array (AESA) radar, which can operate in 90- or 360-degree modes, to protect troops in combat by detecting and tracking enemy indirect fire threats such as artillery, mortars, or rockets.