The Army has announced it will hold an industry day on Aug. 20 to inform vendors of a new technology architecture effort built around tools and processes to see the "soldier as an integrated weapons system and the squad as an integrated combat system." 
Program Executive Office – Soldier and the Soldier Lethality Cross Functional Team (CFT) will jointly host the industry day in Springfield, Virginia, where officials will provide details on the Adaptive Squad Architecture (ASA) program.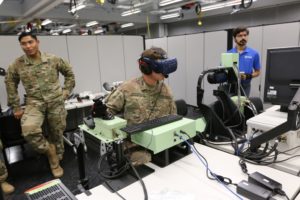 "ASA will maximize integration to ensure our Soldiers a lethal overmatch against current and future threats," officials wrote. "ASA will become the foundation leveraged by SL CFT and PEO Soldier when developing capabilities for soldiers. Based upon this, SL CFT and PEO Soldier's industry day will highlight the way forward for ASA and industry partnerships for development of equipment."
Officials said ASA will work toward building a "single, authoritative technical database" of all squad equipment to better streamline the interactions of capabilities.
The work will include developing a "comprehensive repository of all interface controls" to allow for more rapid integration of new equipment within a squad.
The Soldier Lethality CFT is the Army's team tasked with overseeing the acquisition of new capabilities such as the next-generation squad weapon, enhanced night vision goggles and the synthetic training environment.
Industry day participants are expected to be briefed on ASA's integrated requirements, as well as common standards and interface control documents for the program.