The Army has completed a combat shoot-off with Northrop Grumman [NOC] and
Raytheon Technologies' [RTX] Directed Energy Maneuver Short-Range Air Defense (DE M-SHORAD) prototypes, which are Strykers integrated with a 50-kilowatt laser, as the service readies to select a vendor for initial fielding in 2022.
The event, which took place at Fort Sill in Oklahoma, concluded in late July and included training soldiers on the equipment, running through combat scenarios against simulated threats and discussing the potential to apply DE M-SHORAD for homeland defense missions.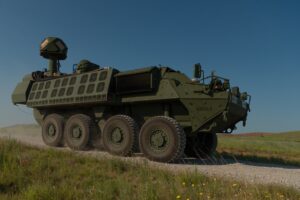 "We are building and delivering a brand new capability. This is not a modification or an upgrade. It took just 24 months for the combined government and industry team to design, integrate, and have it ready to perform in an operational environment," Col. G. Scott McLeod, the Army's Rapid Capabilities and Critical Technologies Office (RCCTO) program manager for DE M-SHORAD, said in a statement.
In August 2019, the Army announced it selected Kord Technologies to provide the 50 kilowatt laser for DE M-SHORAD, while Northrop Grumman and Raytheon would each integrate the weapon system on a Stryker vehicle as competing prototypes (Defense Daily, Aug. 1 2019).
DE M-SHORAD is intended to deliver a on-the-move laser system capable of taking down unmanned aerial systems, rotary-wing aircraft and rockets, artillery and mortars, with plans to deliver a platoon of four laser-equipped Strykers by the fall of 2022.
"The reason we choose the Stryker is it's the smallest vehicle that goes with a maneuver element. So that's wicked hard, right. It's easy to put [a 50 kilowatt laser] on a HEMTT [truck]. That's not interesting. It's easy to put a 10 kilowatt [laser] on a Stryker. That's not interesting. It's about putting the biggest laser you can on the smallest vehicle in the maneuver element," Lt. Gen. Neil Thurgood, the head of RCCTO, said during his remarks Wednesday at the Space and Missile Defense Symposium in Huntsville, Alabama.
Thurgood confirmed that DE M-SHORAD will also be involved in the next Project Convergence demonstration this fall at Yuma Proving Ground in Arizona.
Sen. Gary Peters (D-Mich.), chair of the Homeland Security and Governmental Affairs Committee, was in attendance at the DE M-SHORAD shoot-off, according to Thurgood, who said there was discussion on how such a system could contribute to homeland defense requirements.
"I was standing right there with Sen. Peters at the range and the vehicle was right there and the target was flying around, it had to be a UAS that was flying around. And you start to hear it, it's like a very small hum, and then the UAS falls out of the sky," Thurgood said.