A U.S. MQ-9 surveillance drone crashed into the Black Sea on Tuesday following a collision with Russian fighter aircraft, U.S. Air Forces Europe said in a statement.
Officials said two Russian Su-27 aircraft "conducted an unsafe and unprofessional intercept" of the General Atomics
-built MQ-9 before one of the aircraft struck the drone's propeller leading U.S. forces to intentionally bring it down into the water.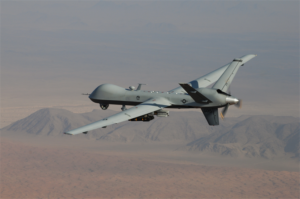 "Our MQ-9 aircraft was conducting routine operations in international airspace when it was intercepted and hit by a Russian aircraft, resulting in a crash and complete loss of the MQ-9," Air Force Gen. James B. Hecker, commander, U.S. Air Forces Europe and Air Forces Africa, said in a statement. "In fact, this unsafe and unprofessional act by the Russians nearly caused both aircraft to crash."
Air Force Brig. Gen. Patrick Ryder, the Pentagon's press secretary, reiterated the MQ-9 was an intelligence, surveillance, and reconnaissance asset but declined to detail the "specific profile" of the platform when asked during a briefing if it was armed.
"These aircraft have been flying over the Black Sea region for some time, to include before the current [Ukraine] conflict started. It is an important and busy international waterway and so it is not an uncommon mission for us to be flying in international airspace," Ryder told reporters. "As you know, the MQ-9 does have the ability to be armed. It was, again, conducting an ISR mission in international airspace, something that we have been doing for some time."
Ryder added he didn't have update to provide at this time on potential operations to recover the MQ-9, while detailing the decision to bring the drone down following the incident.
"Because of the damage, we were in a position to have to essentially crash it into the Black Sea. To my knowledge at this point in time, the Russians have not recovered that aircraft. But, again, in terms of our recovery efforts, I don't have any updates to provide right now," Ryder said. "In this particular case, again, the MQ-9 collided with the aircraft, damaging the propeller and essentially putting it in a situation where it was unflyable and uncontrollable, so we brought it down