Repairs to the USS Harry S. Truman (CVN-75) have been finished and the aircraft carrier will soon return to sea for operations, the Navy said Tuesday.
The Navy started emergent maintenance for an electrical issue on CVN-75 in August.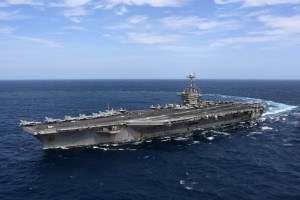 Last month, the commander of Naval Sea Systems Command Vice Adm. Thomas Moore told reporters preliminary data indicated the cause of electrical systems failures is not a class-wide issue and expected the repairs finished in weeks (Defense Daly, Oct. 22).
Separately, last month Vice Chief of Naval Operations Adm. Robert Burke agreed, saying the repair schedule was weeks rather than months (Defense Daily, Nov. 4).
The Navy now says it has replaced damaged components and finished tests to ensure no more issues arise.
"An engineering analysis, coupled with inspections aboard several aircraft carriers, show that this was a localized issue and not a class-wide concern," the Navy said.
"Returning HST to full functionality was a team effort with a tremendous amount of work and collaboration by NAVSEA, our industry partners, shipyard workers and the crew of HST to overcome a very challenging technical issue," Moore said in a statement Tuesday.
The Navy also noted "every effort is being made to make the carrier, air wing and Sailors operationally ready to deploy."
Last month, Moore said the Navy would get the Truman fixed and back to sea "pretty soon."
Earlier this year, the Navy planned to retire the Truman as part of the fiscal year 2020 presidential budget request by canceling its scheduled refueling and complex overhaul, forcing it to retire in the late 2020s.
Service officials argued retiring CVN-75 early was a tough choice to balance against investing in future technologies like unmanned systems and directed energy weapons (Defense Daily, March 26).
However, the administration gave in to congressional pressure and in April Vice President Mike Pence announced in a speech on the ship's deck that Truman would not be retired (Defense Daily, April 30).