The Missile Defense Agency (MDA) awarded Raytheon [RTN] its first-ever multi-year contract in a $2.1 billion sole-source contract on March 26 to build Standard Missile-3 Block IB (SM-3 IB) all up rounds for the U.S. and an unnamed Foreign Military Sales (FMS) partner.
The contract announcement underscored this is a hybrid of a fixed-price incentive, firm-fixed-price and cost-plus-fixed fee award covering five fiscal years from 2019-2023.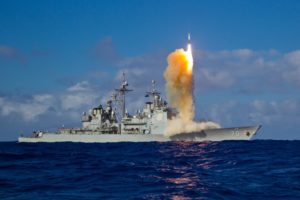 MDA spokesman Mark Wright told Defense Daily in an email that "a total of 230 SM-3 Block IB missiles are being procured through the multi-year contract. This procurement is a combined purchase between the U.S. and its FMS partner."
He confirmed this is the agency's first multi-year procurement contract but could not disclose the FMS partner.
In 2018 the FY 2019 Defense authorization bill allowed the Defense Department to enter into multi-year procurement contract for SM-3 IB missiles to save costs.
This multi-year award "allows for greater buying power, resulting in a 13.2 percent savings for the U.S. taxpayer and the delivery of additional missiles to the U.S. Navy than could have been provided under traditional single year procurements," Wright added.
MDA did not disclose the breakdown between U.S. vs. FMS missiles in the contract.
Under the award, Raytheon will provide management, material, and services associated with the procurement, manufacture, and assembly of the SM-3 IB missiles.
The SM-3 IB was developed for use with the Aegis missile defense system on Aegis equipped destroyers and Aegis Ashore sites.
The IB model improves over earlier models by having an improved two-color seeker and upgraded throttle divert and attitude control system to target a wider set of missile threats.
Work will occur in Tuscon, Ariz., and Huntsville, Ala., and is expected to be finished by March 2027.
At the time of award, $1.05 billion was obligated via FY 2019 and 2020 defense-wide procurement and FMS accounts.
The FMS partner is likely Japan after the State Department approved a possible $1.15 billion FMS to Japan for another 56 SM-3 IB missiles last April (Defense Daily, April 9, 2019)
In September 2018, a Japanese destroyer conducted successful Aegis missile defense intercept test using the SM-3 IB off the coast of Hawaii. That was the country's first test of the SM-3 IB (Defense Daily, Sept. 12, 2018).
The Defense Department also co-developed the later model SM-3 IIA with Japan.
This award comes one day after Raytheon agreed to a $1 billion strategic sourcing agreement with Aerojet Rocketdyne [AJRD] to supply propulsion systems for Standard Missile (SM) programs over the next five years (Defense Daily, March 26).
The company said this multi-year deal is part of its supply chain efforts after recent Standard Missile multi-year contracts with the Navy and MDA.
Aerojet Rocketdyne provides most of the solid rocket motors for the SM-2 missile, SM-3 interceptor, and SM-6 missile, while it also supplies the divert and altitude control system for the SM-3.