The Missile Defense Agency awarded Raytheon Technologies [RTX] and
Northrop Grumman [NOC] firm-fixed-price modifications to extend the current refinement of their hypersonic missile defense concepts for the Glide Phase Interceptor (GPI) program.
The awards will specifically allow the companies to extend the contract performance period to "continue to develop and refine their Glide Phase Interceptor concept during the materiel solutions analysis phase," the announcement said.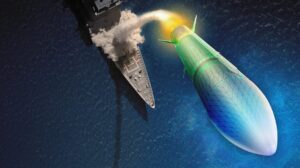 Raytheon was awarded a $29.5 million modification, increasing its total contract value to about $92 million while Northrop Grumman won a $18 million modification that increased its total contract value to $78 million. Both companies' work now has a modified period of performance lasting through July 2023.
Raytheon's work will occur in Tucson, Ariz.; El Dorado Hills, Calif.; Tewksbury, Mass.; Woburn, Mass.; and Huntsville, Ala. Northrop Grumman's work will occur in Chandler, Ariz.
This comes after MDA awarded the companies $31 million modifications in June to continue further developing and refining concepts for their GPI options, leading to a System Requirements Review (SRR)-Prototype, covering work until February 2023 (Defense Daily, June 24).
In September, Raytheon confirmed it had completed the SRR-Prototype, meaning it has moved on to preliminary design work (Defense Daily, Sept. 22).
The agency expects GPI to be developed in phases, with increased capabilities delivered over time. MDA expects initial fielding to start in the mid-to-late 2020s.
In 2021, MDA first awarded Raytheon, Northrop Grumman and Lockheed Martin [LMT] a $19 million to $21 million contract to develop and refine GPI hypersonic missile defense interceptors (Defense Daily, Nov. 22, 2021).
In 2021 the MDA initially switched tracks, moving away from the previous Regional Glide Phase Weapon System (RGPWS) and starting the near-term GPI with separate work on longer term capabilities (Defense Daily, Feb. 4, 2021).
MDA previously said the interceptors will fit into the Aegis Ballistic Missile Defense System and fitted from standard Vertical Launch System cells on Navy destroyers and they will be integrated with a modified Baseline 9 Aegis Weapon System.
This progress is occurring amid a disagreement between the Biden administration and Senate on how much funding GPI should get.
Last month, the White House said it opposed a provision in the Senate's fiscal year 2023 defense authorization bill that could boost GPI finding from the $225 million requested to $518 million total (Defense Daily, Oct. 24).
The administration argued against the increase because the technological maturity is "currently too long to support such an acceleration," while DoD is already investing in systems with some near-term hypersonic missile defense capabilities like the Standard Missile-6.