The Pentagon on Friday approved the deployment of additional troops and air and missile defense capabilities to Saudi Arabia, after receiving a request to bolster defense to deter further Iranian aggression in the region. 
The latest deployment, following an attack on Saudi oil facilities in September, includes sending two Patriot air and missile defense batteries, one THAAD defense system, two fighter squadrons and one air expeditionary wing, according to the Pentagon.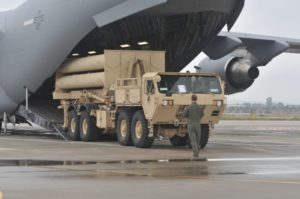 "It is clear that the Iranians are responsible for the recent attacks on Saudi Arabian oil facilities. Our international partners agree, including the United Kingdom, France and Germany, who have said so publicly. Despite Iran's attempts to deny their involvement, the evidence recovered so far proves that Tehran is responsible for these attacks," Defense Secretary Mark Esper said during a press briefing Friday afternoon.
Esper said he spoke to the Saudi minister of defense on Friday to discuss the status of the country's defensive capabilities and agreed to send the additional forces to improve deterrence against further threats from Iran. 
The Pentagon previously announced in late September it would be deploying a Patriot missile defense battery, four Sentinel radars and about 200 additional troops to Saudi Arabia (Defense Daily, Sept. 26). 
"This deployment of additional forces to the Kingdom of Saudi Arabia is for the purpose of defense of our interests and assets in the region, and also to reestablish deterrence with respect to Iran in the wake of the attack on Saudi Arabia," Army Gen. Mark Milley, the new Joint Chiefs Chairman, said at the press briefing alongside Esper.
Esper noted that since May the U.S. has deployed airborne early warning aircraft squadrons, maritime patrol aircraft squadrons, B-52 bombers, a carrier strike group, an amphibious transport dock and unmanned aircraft to the region in response to Iranian provocation.