The Navy issues a stay of Lockheed Martin's [LMT] win of the Navy's Ship Self-Defense System (SSDS) combat systems engineering contract while a Raytheon [RTN] protest proceeds.
Last month, the Navy awarded Lockheed Martin a $56 million contract to become the SSDS Combat Systems Engineering Agent (CSEA). SSDS is a combat system that integrates sensors and weapons to defend non-Aegis supported ships like aircraft carriers and amphibious ships (Defense Daily. Aug. 15).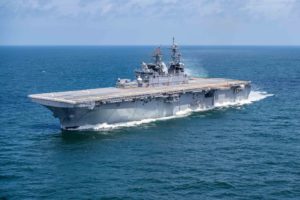 Earlier this month, Raytheon lodged a protest with the Government Accountability Office (GAO) against Lockheed Martin's SSDS win, confirming Raytheon as one of the other two competitors (Defense Daily, Sept. 9).
Raytheon is the incumbent engineering agent for SSDS, having served in the role since the program began.
The protest was issued on Sept. 4 and is due to be resolved by Dec. 13.
A Navy spokesperson confirmed to Defense Daily on Thursday the service received the protest announcement from Raytheon via the GAO and issued a stay.
"The Navy is reviewing the matter. No further comments will be provided while the matter is under review," the spokesperson said.
The SSDS contract includes options that, if exercised, would raise the total value to $638 million.
Since Lockheed Martin is already the CSEA for the Aegis system, the company sees this contract as a step toward helping create a future integrated combat system for both categories of ship. The Navy is planning to eventually create this integrated system using the Common Source Library, which was developed by Lockheed Martin (Defense Daily, Aug. 26).