NATIONAL HARBOR, Md. – Nearly three years since the Air Force first announced plans to experiment with procuring an off-the-shelf, low-cost light attack aircraft for use in permissive environments, the OA-X effort may end up with a legacy of a prototype combat network system and six turboprops.
When the service conducted the first experiments with four commercial aircraft in 2017 at Holloman Air Force Base, New Mexico, lawmakers were willing to provide over $1 billion to procure up to 300 light attack aircraft. In the fiscal year 2020 defense funding deliberations, appropriators are skeptical of allocating a few hundred million dollars to procure four to six aircraft, criticizing what they consider a "backtrack" of the service's plan to buy more platforms.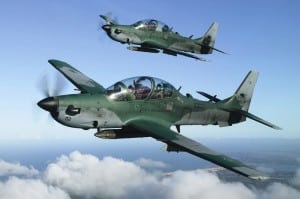 In 2018, the Air Force announced plans to issue a request for proposals to procure either the A-29 Super Tucano built by
Embraer and Sierra Nevada Corp. [SNC] or Textron Aviation's [TXT] AT-6 Wolverine turboprop. But when service officials announced this past March that it instead planned to use unused FY '18 and FY '19 funds to buy two to three of each aircraft and continue experimenting with other platforms, lawmakers wanted answers (Defense Daily, March 13).
Members of the House Appropriations Committee in May questioned why the Air Force only requested $35 million in research, development, test and evaluation (RDT&E) funds in their FY '20 request for light attack aircraft, and no funds for procurement (Defense Daily, May 22). House lawmakers introduced amendments to the chamber's version of the National Defense Authorization Act (NDAA) that would move procurement authority of the light attack effort to U.S. Special Operations Command (SOCOM) (Defense Daily, June 10). And the Senate Appropriations Committee's FY '20 defense spending bill – which was voted out of committee in September but has yet to be passed on the Senate floor – included $210 million to procure six aircraft but critiqued the Air Force's overall strategy, requesting additional plans and details about how the service intends to move forward with the experiment.
The Air Force has continued work on a new combat system that would provide video, voice, chat and command and control to partner nations at a low cost. The Airborne Extensible Relay Over-Horizon Network (AERONet) was borne out of the light attack experiment and plans to digitally links friendly forces, providing them with their own location, the location of other friendly forces and real-time enemy movement updates, per the service.
The service has stood up an AERONet program office at Hanscom Air Force Base, Massachusetts, and performed demos in Europe, South America and Africa to share findings with potential partners, said Gen. Arnold Bunch, Air Force Materiel Command commander who until May served as the service's military deputy for acquisition.
"We think there is great potential there," he said in a Sept. 18 interview at the Air Force Association's annual Air, Space and Cyber Conference. Ultimately, the goal would be to hold a competition for the hardware and have a backbone open architecture system to easily add new applications.
Bunch emphasized that developing a networked system to be used among allies was a critical part of the light attack experiment from the state. "We didn't do AERONet in the first phase; we wanted to see what the capabilities of industry had that were off the shelf or very close to off the shelf," he said. "When we went to Phase 2, we wanted to test the network. … What we were really trying to do was provide a capability that we could use with allies and partners to grow that and give them more capability."
Even if AERONet and four to six turboprop aircraft are the totality of what comes out of the light attack experiment, Bunch said he would still consider the effort a success.
"We hadn't done that kind of experiment and [hadn't] tried to pull that off in quite some time," he said, noting the service went from approval to conduct the experiment to demonstrations at Holloman in five to seven months.
"That in and of itself, to get industry engaged, pull all that together, get everybody out there, do the experiment – sometimes we have muscles that atrophy, [and] that was something that had atrophied and we moved pretty quickly to get into that," Bunch said.
The way the service folded in the AERONet solution and experimented with it was also a success, he said. "The fact that we've got the network, the fact that we have others that may want to use that network and we can share it with our allies and our partners, the fact that we have reacted in a manner differently than we have before and we have demonstrated we can go do experiments; we can do things in a rapid manner, to me, those made it successful. And if we get to do more experiments, then we may have more success."
The Air Force wanted to expand the experiment to explore other options that could work for foreign military sales to allies, Air Force Acting Secretary Matt Donovan told Defense Daily in a Sept. 18 interview at the AFA conference.
"Not every country wants a small prop-driven airplane," he said. "There are a lot of countries out there that fly third-generation aircraft. … Their needs are probably based more along something like that rather than a small turboprop."
Donovan, a retired Air Force colonel and fighter pilot, served as a professional staff member on the Senate Armed Services Committee (SASC) between 2015 and 2017, and helped craft a January 2017 defense white paper written by the late SASC Chair John McCain (R-Ariz.) that identified critical equipment needs for the U.S. military over the FY '18 future years defense program (FYDP). It specifically requested 300 new low-cost/light attack aircraft "that would require minimal work to develop," with the goal of procuring the initial 200 by FY '22.
"I helped author a lot of that," Donovan said. "The thought at the time was the Air Force is bleeding out pilots, and we need to be able to produce more pilots." The SASC recommending authorizing $1.2 billion in the fiscal year 2018 NDAA to procure 300 light attack aircraft.
But as first service undersecretary and now acting secretary, Donovan got more information about the reality of what the light attack effort would entail.
"I realized it would actually draw on our diminishing pilot population so much more – that it would actually hurt to do that," he said, adding, "We wouldn't achieve any benefit for it for years and years."
That being said, a core element of the 2018 National Defense Strategy is to strengthen alliances and partnerships, he noted. "One of the gaps they could fill is that if there are dust-ups somewhere, they could take care of it" with their own light attack fleets.