The U.S. Navy completed the biennial Pacific Dragon 2022 exercise off the coast of Hawaii this week, which included a Standard Missile (SM-3) intercept test.
This multinational air and missile exercise featured naval forces from the U.S., Australia, Canada, Japan, South Korea and U.S. Missile Defense Agency (MDA). The event lasted from Aug. 5-15 at the Pacific Missile Range Facility Barking Sands (PMRF) and off the coast of Kauai, Hawaii.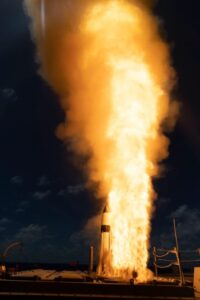 The Navy said the exercise is officially meant "to improve tactical and technical coordination and interoperability concerning regional air and missile defense capability."
The U.S. Defense Department underscored this was the first time the ally-partnership Pacific Dragon event included a live fire intercept of a short range ballistic missile target using a Raytheon Technologies [RTX] SM-3 Block IA.
"Right now the Navy is out there exercising Pacific dragon in an ally partnership out there. We launched a target [the night of Aug. 9], and a mighty U.S. Navy destroyer launched an SM-3 took it down. That's exciting. That was not a development shot," MDA Director Vice Adm. Jon Hill said on Aug. 11 during the Space and Missile Defense Symposium in Huntsville, Ala.
Hill continued that intercept shot was useful because "we're doing fleet reliability with that, and we're doing our stockpile reliability. But, most importantly, we're doing the efficiency of the crew, taking those ships out and doing that sort of engagement. So I'm pretty stoked about that."
Participants in the overall exercise included the U.S. Arleigh Burke-class USS Fitzgerald (DDG-62), USS William P. Lawrence (DDG-110) destroyers as well as the Royal Australian Navy Hobart-class air warfare destroyer HMAS Sydney (DDG 42), Australian Supply-class replenishment oiler HMAS Supply (A 195), Royal Canadian Navy Halifax-class frigate HMCS Vancouver (FFH 331), Japan Maritime Self-Defense Force Maya-class guided missile destroyer JS Haguro (DDG-180), and the South Korean guided-missile destroyer ROKS Sejong the Great (DDG-991).
The SM-3 is generally designed to intercept short to intermediate-range ballistic missiles during the target's midcourse flight phase. The DoD is currently procuring upgraded SM-3 Block IB and Block IIA models to improve the search, discrimination, acquisition and tracking functions.
The Block IB improves over the IA with a two-color version, advanced signal processor to better discriminate threats and a better Throttling Divert and Attitude Control System (TDACS) to better maneuver to the target. It is the main interceptor for the operational Aegis Ashore facility in Romania.
The Block IIA model is the result of a co-development agreement with Japan that includes room for more propulsion in the second stage and a larger kill vehicle to allow faster exit velocities to defend a larger area.
MDA's fiscal year 2023 budget request seeks $1.6 billion for the Aegis missile defense system, including 47 SM-3 Block IB and 10 SM-3 IIA missiles (Defense Daily, April 1).