The U.S. and NATO Formidable Shield 2019 exercise, which concluded on May 19, used several Kratos Defense & Security Solutions [KTOS] targets and Raytheon-made [RTN] interceptors during a weeks-long air and missile defense exercise.
The biennial exercise started on May 7 and aimed to improve allied interoperability in a live-fire integrated air and missile defense environment while using NATO command and control reporting structures. It took place in the U.K. Ministry of Defence's Hebrides Range near the Western Isles of Scotland.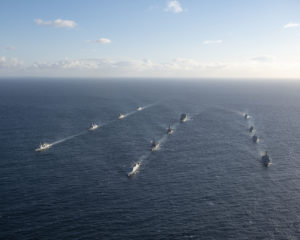 Kratos said it and the Naval Surface Warfare Center Port Hueneme Division's White Sands Missile Range Detachment provided two advanced short-range ballistic missile (SRBM) targets for the exercise. The company highlighted this was the first target to include Kratos' Oriole Thrust Vector Control (TVC) guided rocket system and it met all exercise objectives.
The Oriole TVC was developed by Kratos and is designed to "enhance the capabilities of Kratos' proven subscale target vehicles, by offering boost guidance and dispersion reduction," the company said in a statement.
Kratos said data gathered from Formidable Shield 2019 will be used to refine the design and capabilities of these kind of subscale ballistic missile defense targets for future exercises.
"Kratos is extremely pleased to support Formidable Shield 2019 and with this first flight of the Oriole TVC System. We are proud of the team of professionals whose hard work and dedication made this event a success, and are excited about the potential of this system to advance the capabilities of low-cost BMD targets in the future," Dave Carter, president of Kratos' Defense & Rocket Support Services Division, said in a statement.
Separately, Raytheon noted during the exercise a Standard Missile-3 (SM-3) was fired at a simulated target while both the Standard Missile-2 (SM-2) and Evolved Sea Sparrow Missile (ESSM) engaged targets simulating anti-ship cruise missiles.
The Navy said the Arleigh Burke-class destroyer USS Carney (DDG-64) conducted simultaneous defensive scenarios using an SM-2 engagement while also tracking targets in space and the atmosphere. In another instance, the destroyer USS Roosevelt (DDG-80) conducted the SM-3 engagement with a simulated ballistic missile target while simultaneously engaging Hebrides Range-launched 'Firejet' targets with SM-2 missiles.
A Navy statement said "this demonstrated the capability of the newest Aegis Baseline in a full IAMD scenario."
Raytheon builds the SM-2 and SM-3 interceptor missiles while it participates in the production of ESSM, an international 12-nation NATO cooperative upgrade of the RIM-7 Seasparrow missile.
This year's exercises included forces from the U.S., Canada, Denmark, France, Germany, Italy, the Netherlands, Norway, Poland, Spain, and the U.K. It included about 3,300 personnel. Participating U.S. ships included the Carney, Roosevelt, and the Lewis and Clark-class dry cargo ship USNS Medgar Evers (T-AKE-13).
U.S. Navy Capt. Shanti Sethi commanded Combined Task Group – Integrated Air and Missile Defense during the exercise and directed the forces using NATO reporting structures from the Danish flagship, HDMS Absalon (L 16).
"Formidable Shield allowed us to train together as a multinational force to provide capable, credible deterrence against aggression. There is no substitute for actually operating together to integrate our defenses against real targets in the air and space," Sethi said in a statement.