The Pentagon's acquisition chief said Monday to expect more announcements in the coming months on munitions co-production efforts with other countries, similar to the recently detailed plan for Australia to begin building Guided Multiple Launch Rocket Systems (GMLRS) rockets by 2025.
"You're going to see announcements in Europe about production lines being started up. You're going to see co-production lines being stood up, some within the United States that will be supporting places overseas. We're putting a whole bunch of those [announcements] together," Bill LaPlante, under secretary of defense for acquisition and sustainment, told reporters following his remarks at the National Defense Industrial Association's (NDIA) Emerging Technologies for Defense conference.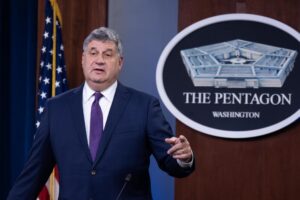 LaPlante said to expect "multiple examples" following the blueprint of the GMLRS production arrangement with Australia, as well as assisting other countries with building their munitions on U.S.-based production lines.
"The co-production could be for a U.S. [capability] like the GMLRS in another country like Australia. It could be for a system that was developed in another country to do production in the United States for another country," LaPlante said.
The co-production arrangement with Australia for Lockheed Martin's [LMT] GMLRS rockets is part of the country's Guided Weapons and Explosive Ordnance (GWEO) Enterprise initiative and was detailed in late July following the 33rd Australia-U.S. Ministerial Consultations (Defense Daily, Aug. 1).
"[Australia is] going to be able to produce [a capability for] what we know is a really important mission in a wide range of contingencies. So there's been a ton of work, particularly over the last year or so, in helping make this real. It's an important test case that we're all going to be watching really closely," Mara Karlin, assistant secretary of defense for strategies, plans and capabilities, told reporters following the GMLRS co-production announcement.
The U.S. has been providing large quantities of GMLRS rockets to assist in Ukraine's fight against Russia's ongoing invasion, with the munitions fired from HIMARS launchers also built by Lockheed Martin.
LaPlante said some of the upcoming co-production announcements are from his engagements with his international counterparts in the Ukraine Defense Contact Group, the coalition of countries that have been meeting regularly to coordinate security assistance efforts.
"We keep saying production is deterrence. I believe co-production, particularly, is highly important, because it also shows commitment and resiliency and strengthens all the countries. So you're going to see this more and more," LaPlante said. "Where we're headed is co-development, co-production and co-sustainment with our partners. That's where we're all headed."
LaPlante began hosting National Armaments Directors meeting last fall to discuss supply chain and production opportunities and ideas related to weapons being provided to assist Ukraine in its fight against Russia's invasion.
"The discussion set the stage for member countries to collaborate on increasing production and identifying opportunities to create interoperability between systems," the Pentagon wrote in a readout of the group's second meeting last November (Defense Daily, Nov. 18 2022).