Lockheed Martin [LMT] said Thursday it delivered to the Navy the 60+ kW-class high energy laser with integrated optical-dazzler and surveillance (HELIOS) system set to be installed on a destroyer.
The HELIOS system is meant to disable unmanned aircraft systems (UAS) and small boats with the laser weapon while having a second use as a counter-UAS intelligence, surveillance and reconnaissance (ISR) dazzler capability that also feeds additional ISR data into a ship's combat system. It either operates in a high-power setting to directly target threats or a low-power setting as a dazzler. As a dazzler, the system aims to reduce or confuse a target's ISR capabilities.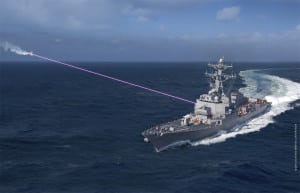 The Navy's fiscal year 2023 budget documents said HELIOS "provides a low cost-per-shot capability" to address anti-surface warfare and Counter-ISR gaps with the ability to both destroy UAS and Fast Inshore Attack Craft.
In January, the company said the Arleigh Burke-class destroyer USS Preble (DDG-88) would be the first ship to install the HELIOS system. The Preble is set to install the system during an Aegis system modernization availability this year (Defense Daily, Jan. 14).
At the time, Jeanine Matthews, the company official who oversees integrated warfare systems, confirmed the system had completed testing at the Navy Surface Combat Systems Center at Wallops Island, Va., in the fall of 2021 and was being packaged for shipment to San Diego before going on DDG-88.
The system is expected to be installed on the Preble at an undisclosed time during a maintenance availability for the ship. The Navy's FY '23 budget request said installation and integration of HELIOS on DDG-88 is expected to be finished before the end of fiscal year 2022, which ends in September, and at-sea testing will proceed in FY '23.
Matthews noted HELIOS is fully integrated with the Aegis Combat System, allowing it to be selected in the weapon systems component of Aegis aboard the ship.
In January, Matthews said while the original Navy contract includes line item options for production of up to nine total HELIOS systems, they were already approaching the end of when that could be feasible to execute, contractually.
The Navy first awarded the HELIOS contract in 2018, including options that, if exercised, would raise the total value to $943 million (Defense Daily, Feb. 2, 2018).
The company also argued HELIOS may have a capability against anti-ship cruise missiles, which could be tested onboard the ship.
When Lockheed Martin initially delivered the HELIOS production unit to the Navy, Director of the Advanced Product Solutions Business Division Joe Ottaviano said HELIOS could be upgraded to a higher power capability without changing the footprint on the ship. The current module is capable of output upward of 100kW while other modules with higher capability could be substituted in that same space (Defense Daily, Jan. 11, 2021).
In 2021 a company official told Defense Daily while the HELIOS was designed for a 60kW output, its upper bound is likely 100-120kW (Defense Daily, Jan. 21).
"HELIOS enhances the overall combat system effectiveness of the ship to deter future threats and provide additional protection for Sailors, and we understand we must provide scalable solutions customized to the Navy's priorities. HELIOS represents a solid foundation for incremental delivery of robust and powerful laser weapon system capabilities," Rick Cordaro, vice president of Lockheed Martin's advanced product solutions, said in a statement this week.