The U.S. Air Force has awarded Lockheed Martin [LMT] a contract for the Stand-in Attack Weapon (SiAW), the company said on June 7.
Lockheed Martin, Northrop Grumman [NOC], Raytheon Technologies [RTX] and L3Harris [LHX] have been competing for SiAW, which is to operate in anti-access/area denial environments to strike mobile targets, including enemy missile launchers, GPS jammers, anti-satellite systems, and integrated air defense systems.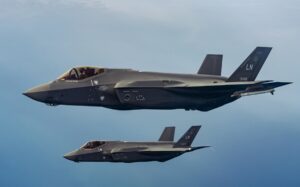 The Air Force requested nearly $78 million in procurement for 42 SiAWs in fiscal 2023. Each SiAW, which the Lockheed Martin F-35A is to carry, would cost more than $1.5 million. Air Force plans call for fielding 3,000 SiAWs at a cost of $8.6 billion. The service's future years defense plan calls for production of SiAW to dip to 14 in fiscal 2024 before climbing to 128 weapons in fiscal 2025 for $208 million, then dropping to 116 in fiscal 2026 and 50 in fiscal 2027.
Former Air Force acquisition chief Will Roper had discussed his desire for a fully digital weapon in 2020, and Lockheed Martin said on June 7 that SiAW is "the service's first fully digital weapons acquisition and development program. "
"SiAW is an air-to-ground weapon that will provide strike capability against a variety of targets, and maintain superiority and freedom to maneuver in the air domain," the company said. "The first phase of the SiAW program will focus on digital engineering, subsystem integration and system design, and will also emphasize agility and innovation. The digital SiAW program will produce a survivable, lethal and high-speed weapon for current and fifth generation aircraft including the F-35 to attack ground targets."
The SiAW design by Lockheed Martin's Missiles and Fire Control division is to leverage "advanced digital engineering pioneered within Skunk Works."
Last August, Lockheed Martin completed a 215,000 square foot plant in Palmdale, Calif., that will use construction robots for Skunk Works projects, 85 percent of which are classified, the company said (Defense Daily, Aug. 13, 2021).
Near term plans call for Lockheed Martin to start building SiAW and integrating it internally and externally on the F-35A under a five-year rapid prototyping effort.
Jason Reynolds, the vice president of advanced programs at Lockheed Martin Missiles and Fire Control, said in a company statement that "integrating SiAW on the F-35 will add more multi-role mission capabilities and bring new cohesive technologies to the sophisticated F-35 suite."