The Marine Corps has awarded L3Harris [LHX] a $249 million contract to deliver 14,000 new night vision goggle systems, with plans to start fielding the devices to infantry units next spring.
L3Harris' system for the Squad Binocular Night Vision Goggle (SBNVG) includes a binocular night vision device and updated clip-on thermal imager, and is designed to provide Marines with a lighter system with improved depth perception.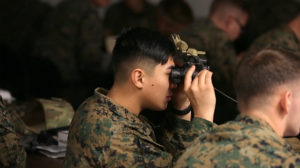 "Awarding this SBNVG contract and fielding these systems to the warfighter is one more step toward increasing the command and control, lethality and ability of the infantry squad to overwhelm our adversaries," Lt. Col. Tim Hough, Marine Corps Systems Command's (MCSC) program manager for infantry weapons, said in a statement. 
The SBNVG decision arrives after L3, before its acquisition of Harris, participated in an interim solution program where the Marine Corps procured 1,300 binocular night vision devices under a Defense Logistics Agency contract to test systems and finalize requirements (Defense Daily, Jan. 23). 
"We made the investment to procure the 1,300 systems and fielded them to two infantry battalions, so we already had a good, robust understanding of the technology we were chasing," Roberto Gonzalez, MCSC's team lead for combat optics, said in a statement. "That allowed us to quickly get through the source selection process [for this contract]."
The SBNVG is set to replace the Army/Navy Portable Visual Search devices the Marine Corps has used since the 1990s.
Work on the SBNVG deal is expected to be completed in 2024, according to Marine Corps officials.