On Tuesday General Dynamics [GD] unveiled its new Bluefin-12 model unmanned underwater vehicle (UUV) at the Defense and Security Equipment International (DSEI) 2019 show in London.
Currently being produced for the Royal Australian Navy, the Bluefin-12 is a lightweight medium-class 15.8 foot-long modular UUV that can integrate various user- and mission-specific payloads. It has four modular sections for easy preparation, maintenance, refitting, and rapid access of components to switch our batteries or take out data to analyze.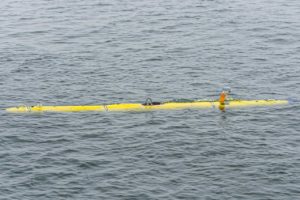 "We built this vehicle a little differently than ones in the past. We wanted a vehicle where a user could tailor it for their own use, whether it's the mine countermeasure mission or environmental assessment, or they want to search and recovery, port and harbor security, you name it. They can take and put in a payload, sensors that met their needs. And so that was the intent," Andy Rogers, vice president of undersea systems at General Dynamics Mission Systems, told Defense Daily in an interview Monday.
It weights 550 pounds with an integrated survey package and can travel for 24 hours at three knots or longer at slower speeds. It can travel at up to six knots of sustained transit and survey at up to five knots.
The payload section is 4,000 cm cubed. The company notes some available integrated payloads and sensors include the Sonardyne Solstice 3000 multi-aperture sonar, removable data storage module (RDSM) with camera, turbidity and fluorometer sensor, and sound velocity sensor with temperature and pressure measurements.
However, Rogers said it can be configured "with just about any sensor that someone might want."
The RDSM acts as an independent data processor with 1 terabyte of removable storage and a high-definition machine vision-grade monochrome camera.
Rogers highlighted the Bluefin-12 maintains the Buefin-9 model's advertised 30-minute turnaround time from getting the vehicle out of the water, taking data off it or changing batteries or payload, and getting it back in the water.
"You can bring this vehicle out of the water, change its batteries, take data off it, so you can completely reconfigure it very, very quickly because it's modular."
The first customer for the Bluefin-12 along with the smaller Bluefin-9 model is Thales, working with end-customer the Royal Australian Navy in their SEA 1778 program. That program seeks to equip various naval vessels with unmanned vehicles in part of a mine countermeasures mission.
Rogers said it can be deployed from just about any sea vehicle. "It's not two-man portable like Bluefin-9, so it's a bit heavier, you can deliver it from vessels of opportunity, small research boats, everything up to large navy ships can easily deploy the Bluefin-12."
While Rogers underscored the Bluefin 12 is being built for the Australian mission, he said, "they're also available commercially to a variety of friendly nations. So we're hopeful that there will be a lot more interest here at the show."
GD has already delivered a "couple" of Bluefin-12s to Australia and will be delivering "some more over the next couple of months."
Rogers said they are in production now, "we're ready to take orders…they're ready to go."
He said GD is looking for interest in the program in the U.S. Navy as well. "There are a number of U.S. programs we expect to recompete in the next few years and we're looking at these vehicles [that] will hopefully fit in there."
Rogers added these Bluefins were not developed with any U.S. DoD dollars and they are International Traffic in Arms Regulations (ITAR)-free systems.