Huntington Ingalls Industries [HII] delivered additional Remus 100 Unmanned Underwater Vehicles (UUVs) to the Germany Navy, the company said Monday.
The Remus 100 is a man-portable UUV designed to operate down to 100 meters in depth for various missions including mine countermeasures, hydrographic survey, and surveillance and reconnaissance.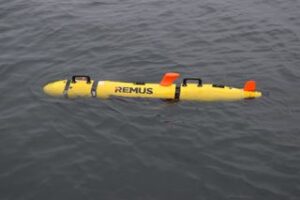 The company said the last batch of vessels will be used to expand the German Navy's existing fleet of legacy Remus 100 UUVS currently used for mine countermeasures operations.
The company said the new vessels have "advance core electronics and endurance of up to 12 hours" and feature open architecture with enhanced modularity.
"We value our ongoing partnership with the German Navy and are proud to help enhance their national security capabilities. Their new REMUS 100s will provide the latest technology to assist them in conducting their MCM operations," Duane Fotheringham, president of HII Technical Solutions' Unmanned Systems business group, said in a statement.
The company did not comment on the contract value for these vessels, how many UUVs were in this delivery, and if more German UUVs are planned for the future.
Germany has been using its Remus 100 vessels for seven years in area search, debris field mapping, and topographic ocean floor mapping, the company said.
The latest sale had HII collaborate with J. Bornhöft Industriegeräte GmbH, the exclusive provider of the Remus vessels to Germany-based customers.
HII agreed to
acquire Hydroid Inc., maker of the Remus line of UUVs earlier in 2020 for $350 million in cash. It was previously owned by Kongsberg Marine, part of the Norwegian Kongsberg Grupper defense and maritime company. The acquisition was finalized in March 2020 (Defense Daly, Feb. 4).
The Remus 100 UUVs were first designed in the 1990s by the Woods Hole Oceanographic Institution and Hydroid was spun off from there in 2001 to further develop and commercialize Remus.
Tom Reynolds, senior director of business development at Huntington Ingalls Industries Technical Solutions, told Defense Daily in an email that the legacy Remus 100 variant has an endurance of 8-10 hours and speeds of up to 4.5 knots, while the latest generation of the vessel was launched in 2016. It now features smaller, lighter and more powerful core electronics that consume 75 percent less energy.
"We increased the lithium-ion battery capacity from 1 kWh to 1.5 kWh and redesigned exterior elements to significantly reduce drag. Additionally, all new REMUS 100s are open architecture, allowing for simpler integration of third-party algorithms and sensors. The new generation REMUS 100 has an endurance of up to 12 hours and speeds up to 5 knots due to these design optimizations," Reynolds added.