Air Force Secretary Frank Kendall said this week that two booster flight tests this year of a prototype Lockheed Martin [LMT] AGM-183A Air-Launched Rapid Response Weapon (ARRW) have not changed his view on the utility of hypersonic weapons.
"Hypersonics to me are not a panacea," Kendall told reporters this week at the Air & Space Forces Association annual conference in National Harbor, Md. "They're not a magic solution to our problems. In fact, it's difficult with hypersonics to engage some of the moving targets we want to engage, but they have a place in our inventory, and we're gonna get them there. The Chinese, in particular, and the Russians, to a lesser extent, have been investing pretty heavily in hypersonics. I know the targets that they want to attack with those. We don't have a mirror image problem so my thinking on that has not changed. We're not trying to duplicate or keep up with the Chinese and mirror image what they're doing. We're trying to do what we need for our objectives militarily."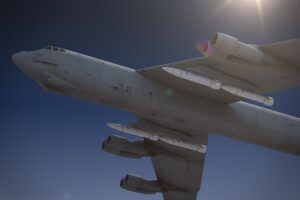 In July, an ARRW prototype had its second booster flight test off the southern California coast after three aborted attempts last year (Defense Daily, July 13). Because of the recent flight tests, the Air Force plans to conduct all-up-round testing this year of ARRW, which, once fielded, is to destroy high-value, time-sensitive targets and enable rapid response strikes against heavily defended land targets.
Kendall has said that he wants more analysis on the cost and operational effectiveness of hypersonic missiles and that air-breathing hypersonic missile designs, such as the future Raytheon Technologies' [RTX] Hypersonic Attack Cruise Missile (HACM), using scramjet engines, have shown more promise thus far for the U.S. than hypersonic glide vehicles, like ARRW.
On Sept. 22, the Air Force awarded Raytheon Missiles and Defense in Tucson, Ariz. a $985 million contract for HACM. Raytheon beat out Lockheed Martin and Boeing [BA] for the award.
"The task order provides for the HACM weapon system design, development and initial delivery through the performance of model-based critical design review, qualification, integration, manufacturing and testing," DoD said in its Sept. 22 contract announcements. "Work will be performed in Tucson, Arizona, and is expected to be completed by March 2027."
Congressional defense committees are poised, at the Air Force's request, to plus up HACM in the committees' fiscal 2023 conference defense bills.
"ARRW has made some progress," Kendall said this week. "The real question there is a question obviously about a program's ability to meet its objectives. It's about execution, but then there's a question about cost effectiveness and how a weapons system like that fits into our inventory. There's no question we're going to bring hypersonics into the inventory."
The Defense Advanced Research Projects Agency, the U.S. Army and the U.S. Navy have also undertaken hypersonic weapons development.