HII this week said it delivered three new REMUS 100 unmanned underwater vehicles (UUVs) to the U.K. Royal Navy earlier this year.
The new UUVs come after the U.K. Ministry of Defense first acquired two REMUS 100s in 2002, which the company noted are still in operation. An HII spokesperson told Defense Daily
on Wednesday the Royal Navy currently owns 12 REMUS 100s and four REMUS 600s.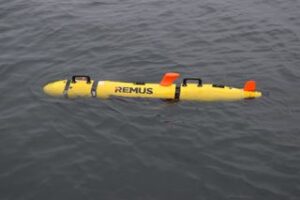 The three new REMUS 100 vehicles were delivered in June and add to that fleet, the spokesman said. The Royal Navy originally placed the order for these vessels in December 2021. The new REMUS 100 UUVs are set to be "used exclusively for mine countermeasure operations."
The spokesperson also said this delivery is meant to be a replacement for some of the existing systems that have had long service histories, but did not explicitly say it is to replace the oldest 2002 REMUS 100s.
"On behalf of the frontline users, I'm delighted to accept into service this refresh of REMUS 100," Cmdr. Rory Armstrong, mine warfare lead at the U.K. Navy Command Headquarters, said in a statement.
"Our use of the REMUS family of vehicles over the last two decades has paved the way for a future mine countermeasures capability with autonomy at its core. These vehicles represent an exciting evolution of our existing small AUV fleet and will make a valued contribution to the Royal Navy as a force for good both in home waters and on an expeditionary basis," he added.
Duane Fotheringham, president of the Unmanned Systems business group within HII's Mission Technologies division, argued the new REMUS 100 vessels will "bolster their existing fleet with increased capability for the U.K.'s subsea autonomous operations" and continue a long partnership with the Royal Navy.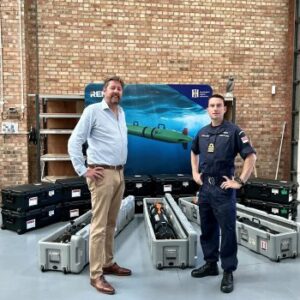 The spokesperson also confirmed the delivered REMUS 100s were standard 100M systems. According to a company factsheet, these vessels are rated for a depth of 100 meters, are 7.5 inches in diameter, 73 inches long, weight 85 pounds, can operate for up to 10 hour missions, can travel up to 4.5 knots, and have a maximum range of 36 nautical miles.
HII said it has sold over 600 UUVs of various types to 30 countries, including 14 NATO member countries.
Previously, HII similarly delivered an unspecified number of REMUS 100 vehicles to the German Navy in 2020 to expand its existing fleet on REMUS 100s used in MCM operations as well (Defense Daily, Dec. 22, 2020).
Last year, HII released its newest small-class UUV, the REMUS 300. At the time, the company said the vehicle includes feedback from hundreds of REMUS 100 users (Defense Daily, April 20, 2021).