HII [HII] announced several leadership changes and promotions on July 20 as it shuffles positions in its Newport News Shipbuilding (NNS) division, effective immediately.
Matt Needy was moved from vice president of Navy programs at NNS to vice president and chief transformation officer. In the new role he will be "responsible for the overall Newport News strategy execution, advanced development of business growth – including the next-generation attack submarine SSN(X), enterprise-wide continuous improvement, overall operational health, and risk-opportunity management," the company said in a statement.
Newport News Shipbuilding spokesperson Todd Corillo told
Defense Daily that in his previous position, Needy had responsibility for running the programs and developing this new operating foundation.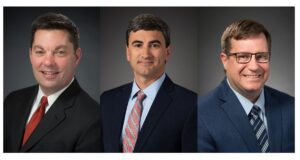 "Because of its current level of maturity, our desire to accelerate deployment yard-wide, and our continued focus on improving program performance, we established the new Chief Transformation Officer position to have dedicated leadership focused on accelerating our transformation efforts while allowing the Navy Programs to remain focused on daily management and execution of our programs," Corillo said.
He also noted as a 34-year veteran in systems engineering, program management and other relevant experience, Needy's expertise "will speed deployment of these critical capabilities yard-wide.
Bryan Caccavale is moving from vice president of material and manufacturing into Needy's former role as vice president of Navy programs.
"In this role, Caccavale's diverse leadership and strong financial experience will benefit program execution and financial performance of the ships built and maintained by Newport News," HII said.
Beyond these two changes, HII is restructuring the material and manufacturing parts of NNS back into two stand-alone divisions, which it combined into one in October 2020.
Julia Jones will remain the vice president of manufacturing in the revamped stand-alone division while director of supply chain procurement Cullen Glass will become vice president of supply chain management.
In his new roll, Glass will be responsible for "all procurement, outsourcing and material logistics functions across Newport News."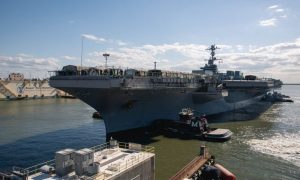 HII noted Glass first joined HII in 2019 as corporate director of enterprise transformation before moving to the NNS supply chain team. He previously worked at Honeywell [HON] for 18 years in various roles.
Corillo said restructuring the material and manufacturing parts of the business back into two stand-alone divisions" allows these teams to efficiently execute on their critical missions that contribute to our overall success."
The company said these changes aim to optimize shipyard operations and accelerate execution.
Jennifer Boykin, president of Newport News Shipbuilding, said the company has been trying to transform the way they run the business.