Adm. Christopher Grady, vice chairman of the Joint Chiefs of Staff, reiterated on Wednesday that the Pentagon's initiative to field thousands of attritable autonomous systems over the next two years is only the "first instantiation" of the new Replicator initiative, with similar technology efforts to follow.
"[It's] really, really exciting. The ability to mobilize industry in 18 to 24 months to generate thousands of these attritable autonomous systems is a game changer. And that's just the first use of this idea of Replicator, which I think really taps into the innovation streak that's represented here in this room and by our industrial base partners. And it's all about getting innovation to the force faster," Grady said during remarks at the Air and Space Forces Association's air, space and cyber conference at National Harbor, Md.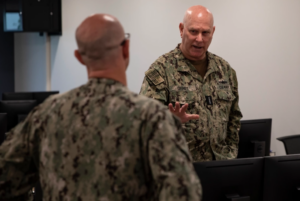 Deputy Defense Secretary Kathleen Hick first announced the Replicator initiative in late August, detailing the effort to produce thousands of "all-domain attritable autonomous systems, or ADA2 capabilities, over the next couple years "to help us overcome [China's] biggest advantage, which is mass" (Defense Daily, Aug. 28).
Grady and Hicks lead the Deputy's Innovation Steering Group (DISG), which will oversee Replicator with DIU Director Doug Beck supporting on industry reach as the department looks to leverage investments and existing work on ADA2 capabilities across the military services, the Strategic Capabilities Office and the combatant commands.
"I'm going to work in support of the deputy secretary to bring this to fruition because it's that important to the joint force," Grady said on Wednesday. "If you have good ideas on how to come forward and take advantage of Replicator or to think about how we can get things into the force faster, bring them up because we need your thoughts on how we can get things faster to the field."
Hicks and Beck have both previously said the lessons learned from Replicator could be used to inform potential future efforts to scale up production of other new emerging technologies.
"This [Replicator] concept is something that we've got to use to break down systemic barriers in the context of those most critical operational problems. And we've got to solve the operational problems in a way that helps break down the systemic barrier. So that's very symbiotic thing," Beck told reporters following his remarks at the recent National Defense Industrial Association's (NDIA) Emerging Technologies for Defense conference.
Last week, Hicks said Replicator won't require new funding and that the department was now seeking out existing ADA2 programs that could be scaled up for production (Defense Daily, Sept. 6).
"First, let's be crystal clear, Replicator is not a new program of record. We're not creating a new bureaucracy. We will not be asking for new money in FY '24. Not all problems need new money. We are problem solvers and we intend to self-solve. So Replicator will use existing funding, existing programming lines and existing authorities to accelerate production and delivery at scale by exerting leadership focus and attention on a singular operational challenge and maturing solutions because that's what ultimately delivers," Hick said during remarks at the Defense News conference.