The U.S. government conducted its first successful Terminal High Altitude Area Defense (THAAD) system intercept on Friday while using a remote launcher kit.
In the test, designed Flight Test THAAD (FTT)-23, a THAAD system at the Kwajalein Atoll in the Republic of the Marshall Islands detected, tracked, and intercepted a medium-range ballistic missile target.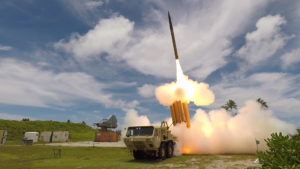 This involved cooperation by the Missile Defense Agency (MDA); Ballistic Missile Defense System Operational Test Agency; and U.S. Army soldiers of the E-62 Battery, 11th Air Defense Artillery Brigade.
The test was notable because the THAAD used a government-developed remote launcher kit that extended the range of the defended area. This meant the THAAD launcher was located at distance from the other THAAD end items.
After the THAAD radar detected, acquired, and tracked the target, the system developed a fire control solution and launched the interceptor from a remotely-located THAAD launcher.
MDA said soldiers from the E-62 Battery conducted radar operations, launcher and fire control operations using the same procedure they would use during combat.
According to MDA spokesman Mark Wright, soldiers were unaware of the target-launch timing to simulate a real-world scenario.
"This test demonstrates the expanding capabilities of the THAAD weapon system and its ability to intercept and destroy ballistic missile threats in defense of our nation, deployed forces and allies," MDA Director Vice Adm. Jon Hill said in a statement.
Lockheed Martin [LMT] hailed the test as prime contractor and builder of the THAAD system.
"The THAAD system now has the capability to physically untether a THAAD launcher from the battle manager and launch interceptors remotely, greatly enhancing launcher emplacement options and increasing the defended area," the company said in a statement.
Lockheed Martin argued this test shows THAAD can now untether the launcher from the battle manager can launch interceptors remotely, "greatly enhancing launcher emplacement options and increasing the defended area."
Wright said preliminary indications are the primary objectives were achieved and the target was successfully intercepted. Program officials will continue to evaluate performance from telemetry and other data obtained in the test.
MDA said this was the 16th successful THAAD intercept in a row since 2005.