The Pentagon's Joint Artificial Intelligence Center (JAIC) is in the midst of standing up a new platform to facilitate AI-related efforts across the department, the center's director said Aug. 30.
The year-old center is benefiting from initial momentum happening now in terms of fielding new AI capabilities, said Air Force Lt. Gen. Jack Shanahan, who became JAIC director since January, after previously leading the Pentagon's Project Maven AI pathfinder.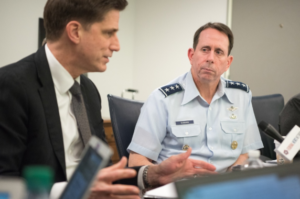 It is working to develop a new platform called the Joint Common Foundation (JCF), which would help scale DoD-wide AI efforts, Shanahan said Friday at a media briefing at the Pentagon. The JCF would include shared data, reusable tools, frameworks and standards, and cloud and edge services to be accessed by personnel looking to create their own applications.
The JCF will be "instrumental" to the JAIC becoming a true center of excellence for the department's AI efforts. The platform would "provide access to data, tools, environment, libraries and to other certified platforms to enable software and AI engineers to rapidly develop, evaluate, test and deploy AI-enabled solutions to warfighters," he said. "It is designed to lower the barriers of entry, democratize access to data, eliminate duplicative efforts and increased value added for the department."
It will reside on top of an enterprise cloud infrastructure, he added.
A minimal viable product – as Shanahan called it, Version 0.5 – is in the midst of being built out, after suffering some setbacks as the Pentagon's Joint Enterprise Defense Infrastructure (JEDI) cloud competition has been placed on hold pending leadership review (Defense Daily, Aug. 1).
"Absent the JEDI contract, we had to go out and come up with an interim solution just to be able to provide that enterprise cloud environment," Shanahan said. "We'll continue to build that out over the next six months."
Within the next two years, Shanahan hopes the JCF would become a critical tool for users to take data, build their own app and feed the results back into the foundation for future applications, "an incentive for people to come into the JAIC and get away from all of the bespoke solutions that they've had to stand up across the department."
JAIC also plans to deliver initial capabilities related to information operations, intelligent business automation, predictive maintenance efforts for the HH-60 helicopter, humanitarian assistance/disaster relief with an initial emphasis on wildfires and flooding, and cyber detection tools for event detection and network mapping, among other efforts.
"I am optimistic we will see progress in a couple of our different lines of effort within six months from October," Shanahan said. He emphasized that those will be "minimal viable products," not full capabilities, but that would be improved and upgraded on a rapid rate.
In fiscal year 2020, JAIC will prioritize a new project called AI for Maneuver and Fires, Shanahan said. This will include developing capabilities related to operations intelligence fusion, joint all-domain command-and-control (C2), accelerated sensor-to-shooter timelines, autonomous and swarming systems, target development and operations center workflows, he added.
The center started out from a humble establishment in August 2018, Shanahan noted. "This time last year, the JAIC only had a handful of people, no money and no permanent spaces from which to operate." Moreover, it did not receive the majority of its $93 million funding for fiscal year 2019 until this past March, he added.
The fiscal year 2020 defense budget request includes $268 million for JAIC, a healthy budget, and momentum for AI capabilities continue to grow in the department, Shanahan said. He noted that each of the service's individual budgets boasted increased funding for the tech development, with more investments expected in the fiscal year 2021 five-year Future Years Defense Plan (FYDP).
Within two weeks, the Defense Department will launch a new website, ai.mil, which will include information for all of JAIC's products and efforts, Shanahan said.
By early next year, the center intends to conduct two pitch days with industry, with one set to take place in Ann Arbor by October and a second to occur on the West Coast next spring, he added. JAIC hosted its first pitch day last May in New York.
There is a sense of urgency to keep up with the pace of technology, Shanahan noted. "We just see what the potential for artificial intelligence" is, he said. "We see a future of digital modernization, yet in some ways are still looking at the world through an industrial-age lens. We're trying … to make that leap."