The Defense Department on Sept. 30 awarded Pratt & Whitney [UTX] a $2.1 billion contract modification that includes new F135 engines for the department's three F-35 Joint Strike Fighter variants.
The contract modification includes the production and delivery of 112 engines meant for the Air Force's F-35A variant, 46 engines for the Marine Corps' F-35B variant and 25 engines for the Navy's F-35C variant. It also includes long-lead components, parts and materials associated with 129 F135 engines for the F-35A variant and 19 engines for the F-35B variant for F-35 international partners and foreign military sales.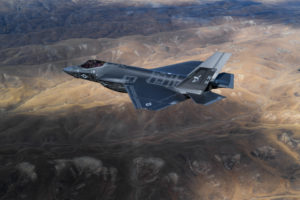 The majority of the work will be performed in East Hartford, Connecticut, with about a quarter of the work to be performed in Indianapolis and about 6 percent in Bristol, United Kingdom. It is expected to be completed in February 2023.
Fiscal 2018 and 2019 aircraft procurement (Air Force, Marine Corps, and Navy); non-U.S. DoD participant; and FMS funds in the amount of $3.5 billion are being obligated at time of award, none of which will expire at the end of the current fiscal year, per the award announcement. The modification combines purchases for the Air Force ($878.1 million; or 40 percent); the Marine Corps ($619.1 million; or  28 percent); the Navy ($178.8 million; or 8 percent ); non-U.S. DoD Participants ($420 million; or 19 percent); and FMS customers ($99.4 million; or 5 percent). The Naval Air Systems Command, Patuxent River, Maryland, is the contracting activity.
Pratt & Whitney derived the F135 family from its F119-PW-100 engine, which powers the Air Force's F-22 Raptor fighter aircraft.