Delivery of the Army's new helicopter engine to the vendors building prototypes for the Army's Future Attack Reconnaissance Aircraft (FARA) program has been pushed to early 2024, delaying first flight tests to next year. 
Doug Bush, the Army's top acquisition official, confirmed the delay to reporters on Tuesday citing "manufacturing challenges" with the General Electric Aviation [GE]-built T901 engines, developed under the Improved Turbine Engine Program (ITEP).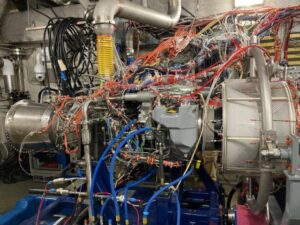 "It's unfortunate. But ITEP is the engine for that platform so we've got to have it," Bush told reporters following his remarks at the McAleese Conference in Washington, D.C. "This is complicated stuff. Some of these parts are very difficult to manufacture…I think we've got it under control, but GE has to perform. I need those engines on time."
GE Aviation was awarded a $517 million contract in February 2019 to develop its T901 engine for ITEP, which will eventually power the Army's AH-64 Apache and UH-60 Black Hawk helicopters as well as the future FARA platform (Defense Daily, Feb. 1, 2019).
"We are laser-focused on execution and working closely with the Army to deliver flight-test engines this fall to support the FARA competitive prototypes," a GE spokesperson said in a statement to Defense Daily, noting the delay was caused by a "small number of components" impacted by supply chain challenges.
The Army has selected Bell's [TXT] 360 Invictus and Sikorsky's [LMT] Raider X designs for the FARA competitive prototyping phase as it looks to field a new scout attack helicopter.
Both Bell and Sikorsky have been waiting on GE's T901 engine to complete their FARA prototypes, with the Army having previously discussed plans to potentially have first flight in late 2023.
Army officials had targeted last November for delivery of the new engines to Bell and Sikorsky, before confirming the timeline had been pushed back to spring 2023 due to supply chain challenges (Defense Daily, Nov. 1 2022). 
Bush said expected deliveries of the T901 engines in early 2024 would set the Army on the path to fly Bell and Sikorsky's FARA prototypes in 2024, but did not specify when next year that could be potentially be scheduled.
"Hopefully that holds and get us to slightly delayed FARA prototyping test flights," Bush told reporters. "There is an integration path. So next year, assuming things go well because you have to start with ground testing. It's a brand new engine and a brand new helicopter, obviously. You've got to do a lot of diligence on the ground before you start flying around. But I think we're still on track for next year."
Last July, the Army announced it had concluded the "first engine to test" milestone for the T901 engine, noting it "successfully verified and validated performance models" (Defense Daily, July 7 2022).
"The T901 provides the critical capability that will allow Army Aviation greater reach and lethality to dominate and win in Multi-Domain Operations versus Near-Peer Competitors by providing increased power, improved reliability and better fuel efficiency," the Army has said previously.