The Czech Republic has agreed to a $2.2 billion deal with BAE Systems for the procurement of 246 CV90 infantry fighting vehicles, the company said Wednesday.
The contract follows negotiations between the Czech Republic and Sweden, where BAE Systems Hägglunds business, which builds the CV90, is based.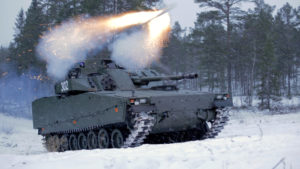 "As the ninth member of the CV90 User Group, the Czech Republic and its Army will benefit from this combat-proven infantry fighting vehicle with a leading combination of mobility, firepower, protection, and future growth potential," Tommy Gustafsson-Rask, managing director of BAE Systems Hägglunds, said in a statement. "This contract also represents a significant win for Czech industry that will last for decades."
BAE Systems announced last December that the Czech Republic and Sweden had signed a memorandum of understanding to begin negotiations on a CV90 procurement deal, initially stating there was an aim to reach an agreement for 210 vehicles (Defense Daily, Dec. 21 2022).
The CV90s in the new deal will be "developed and delivered through an industrial partnership with Czech industry," BAE Systems said Wednesday, with defense firms in the country accounting for 40 percent "of the acquisition's value in development, production and assembly contracts, not including [value added tax]."
"The program also offers future industrial opportunities that represent significant monetary value well beyond the flow down of contracts to Czech industrial partners. The contract will bolster the local defense sector, granting access to BAE Systems' global supply chain, expanding opportunities for cooperation, and enhancing local competitiveness," the company said in a statement.
The Czech Republic will receive CV90s in the latest MkIV configuration, which BAE Systems said "offers superior tactical and strategic capabilities to target a wide range of ground and airborne targets, and exceptional resilience in any terrain and tactical environment."
The new deal with the Czech Republic follows Slovakia's $1.4 billion award to BAE Systems in December for 152 CV90s, becoming the eighth international operator of the combat vehicle.