The Commandant of the Marine Corps this week argued the Pentagon's acquisition process has slowed down procurement of the new Landing Ship Medium (LSM) vessels and he favors modifying regulations to allow more innovation.
Speaking at a Brookings Institution event on May 23, Gen. David Berger was asked about how he thinks the Defense Department is proceeding on his vision for smaller and more numerous amphibious ships.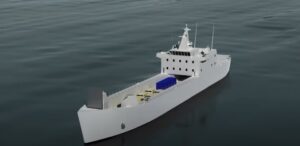 He responded it is not going as well as he hoped due to others trying to add other weapons that make the platform more expensive.
"Not satisfactory. The challenge, and it's not to place blame on anybody…the smaller ships, which we know we need, they enter a process in the Pentagon of, okay, what is it you need, what capability do you need, and by the time it comes out, the other side is everybody's piled on all kinds of extra things on there that you don't need," Berger said.
"And it comes out to be super expensive and beyond what you want. And then you wargame it and you have discussions and, six months later, you end up doggone pretty close to where you started from. You lost a year," he continued.
The commandant said the process has frustrated him because he "could not find a way to navigate through that process any faster. And now we're back where we kind of started from."
The LSM is planned to be 200 to 400 feet long, able to transport 75 Marines and their equipment, travel upward of 3,500 nautical miles, and be able to carry up to 10,000 square feet of cargo. The Marines said they need nine LSMs to field each of the three planned Marine Littoral Regiments (MLR). The Marine Corps wants 35 LSM-type ships to cover the 27 vessels for three MLRs and eight more to account for maintenance schedule requirements.
The Marine Corps is pushing to get this 35 LSMs in addition to at least 31 traditional amphibious ships.
However, the Navy and Marine Corps may only procure 18 LSMs as such, with the remaining 19th through 35th ships including a mix of other craft offering similar capabilities.
In January, Marine Brig. Gen. Marcus Annibale, director of expeditionary warfare (OPNAV N95), said the services agreed the first 18 LSM-type ships should be the LSM itself. The rest of the vessels could be other craft closer to the Stern Landing Vessel the Marine Corps is contracting to test LSM concepts or the Spearhead-class Expeditionary Fast Transport ships also being considered for LSM testing (Defense Daily, Jan. 17).
Berger underscored if there is no check put on the acquisition system, others in the process will add more weapons and defensive systems to platforms like the LSM, ultimately making it too expensive to field as envisioned.
He also said LSM and amphibious ships overall are a prime example of where he sees the Pentagon needs to move more quickly for future Marine Corps capabilities.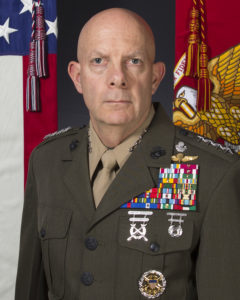 Berger noted a Brookings study from 1976 he read recently noted there were 64 amphibious ships at the time, compared to 31 now.
"We need the [LSM] to move stuff around. So in some areas like that [we] can't go fast enough."
Berger also argued Congress could help the Pentagon and the services by improving the speed and simplification of acquisition, "one of the drags that we have."
He said Congress could also help the military free up funds despite adding some risk, in comparison to venture capitalism pushing private sector innovation.
Berger said DoD currently has "whatever the opposite of that is."
He hopes Congress can modify regulations to help the Defense Department find ways to free up funds, but acknowledged there needs to be non-overbearing oversight to counter that added risk.
"But don't penalize us for the…toilet seat and golden hammers of 30 years ago, because then we didn't have a pacing challenge, now we have to move."
Berger said he even favored allowing combatant commanders to get investment funds over the services themselves.
"Give the combatant commanders a way to invest in funds, or using funds to move quickly, because that's where the laboratory is, in my personal view."
He said if regulations are not changed to increase innovation within DoD and "if we keep the same framework in place that was put probably for all the right reasons when the oversight wasn't to the degree it should have been, if we don't change that, we will fall behind. But it comes with risk."