The Navy is sequencing its next-generation acquisition programs in the 2030s as the Next Generation Air Dominance (NGAD) new fighter, DDG(X) new destroyer, then the SSN(X) new attack submarine, the Chief of Naval Operations recently confirmed.
The Boeing [BA] MQ-25 Stingray carrier-based unmanned tanker aircraft is "the pathfinder for next-generation air dominance. And that is a phased program through the late 2020s into the 2030s that we need to deliver both sixth generation manned and unmanned aircraft," Adm. Mike Gilday said on Jan. 10 at the Surface Navy Association's annual symposium.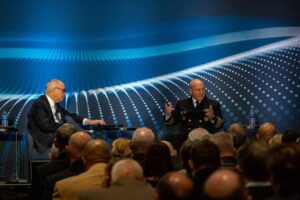 Gilday reiterated the Navy is on a path for the MQ-25 to go to initial operating capability on an aircraft carrier in 2025 and is on a phase program into the 2030s. The Navy plans to procure 72 Stingrays total.
MQ-25 will free up F/A-18 Hornet jets currently tasked with refueling to return to their original strike fighter mission.
Previously, Gilday said the Navy's NGAD concept will be a mix of manned and unmanned aircraft that may eventually rise to 60 percent unmanned and 40 percent manned. MQ-25 is expected to help the service better understand manned-unmanned teaming concepts (Defense Daily, Oct. 21).
The Navy has revealed few details about the NGAD, even keeping the budget classified for the last several years. It will be focused on a manned fighter called F/A-XX that will operate with unmanned aircraft in a family of systems to ultimately replace the F/A-18E/F Super Hornets.
Next, he said the Navy expects the DDG(X) next-generation destroyer program will start transitioning into service in the 2030s.
"That transition needs to be deconflicted a bit with the investments that we're making in NGAD, the investments we will make later in the decade in SSN(X), the next generation submarine.  And I think in the middle falls DDG(X). We need that platform," Gilday said.
The Navy's FY '23 long range shipbuilding plan indicated production of DDG(X) is planned to start in 2030, pushed back two years from the previous December 2020 shipbuilding plan. 
However, he said "my priority right now is making sure that we get the Flight III DDG lines humming. And so the latest signal from Congress has been three a year.  What industry has to do is prove to us that they can produce three ships a year, get them out there at three a year.  We're not there yet," he continued.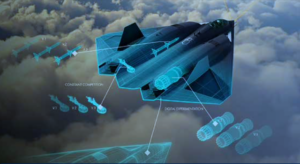 In the fiscal year 2023 defense authorization act, Congress went above the Navy's request for a nine-ship multi-year procurement authority with an option for a 10th hull. Instead, Congress approved procurement of up to 15 destroyers over five years, which translates to three ships per year between the two shipbuilders: General Dynamics' Bath Iron Works [GD] and HII's Ingalls Shipbuilding [HII].
After his remarks, Gilday told reporters the focus is indeed NGAD, DDG(X), then SSN(X) "sequentially, but there's a parallel nature to that as well…in terms of how you build out those capabilities and the platforms specifically. So it is a cascading into the 2030s kind of path."
The CNO also said Congress' multiyear procurement authority gives the service more flexibility, but "we really need to get stability in the DDG Flight III line. And that'll help us, I think, inform the transition timeline in the DDG(X). What I don't want to do, as long as I'm in this job, is to introduce a new platform too quickly."
"So that that transition plan, in other words, needs to be graceful," he added.
Later in the conference, Rear Adm. Fred Pyle, director of surface warfare on the CNO's staff (OPNAV N96), updated reporters on how DDG(X) is progressing.
"With DDG(X), we have a good set of top level requirements. …We are focused on, with DDG(X), the high end fight. So the capabilities like larger missiles, longer range, hypersonic strike missiles, the ability to employ higher power directed energy, whether those are laser or microwave, and you need DDG(X) with the power, and the space and the weight and the cooling to land that kind of capability."
"The other piece of that capability is the ability to expand the sensor. So think SPY-6 and larger sensor ability to detect threats at a longer range. That's where we need to be. As those capabilities develop, my concern is that we don't have a platform to land them on. So that's why DDG(X)."
Pyle said there is about another seven years to iterate on DDG(X) capabilities as they proceed from preliminary design to detailed design later in the 2020s.
He noted while the requirements for any specific vertical launch system (VLS)  missile cell configurations is "pre-decisional," they want the kind of hypersonic missile capability being added to the Zumwalt-class (DDG-1000) destroyers via larger VLS cells. The Navy is pushing to start adding the Conventional Prompt Strike (CPS) hypersonic weapon to DDG-1000 in 2025.
"We can see a type of larger missile launcher on DDG(X)…But I think the bottom line is that we want to look at what the right combination is of existing Mark 41 VLS and those larger missile launchers, what that may be, could be CPS could be something different."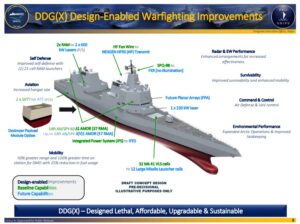 In July, the Navy awarded GD and HII contracts at unspecified values for engineering and design analysis for DDG(X), particularly meant to support the ship's preliminary design and contract design (Defense Daily, July 25).
Last year, the Navy revealed a draft design concept for DDG(X), which includes the capabilities to field the DDG-51 Flight III's combat system and SPY-6 Air and Missile Defense Radar, a new hull form to fit future power-hungry systems, two 221-cell Rolling Airframe Missile (RAM) launchers, and 32 MK 41 VLS cells (Defense Daily, Jan. 13, 2022).
The design also showed potential future capabilities like replacing the RAMs with 600 kW laser defense weapons, adding a 150 kW laser, adding more MK 41 VLS cells or replacing them with 12 larger VLS cells to field hypersonic missiles, replacing the radar with a larger model, and replacing an Integrated Power System like the Zumwalt's with Integrated Power and Energy System.
In contrast to details about DDG(X), a November 2022 Congressional Budget Office (CBO) report warned it was difficult to estimate the cost of SSN(X) because the Navy had not yet determined the size or capabilities. The new submarine is expected to start production in the mid-2030s (Defense Daily, Nov. 15).
CBO estimated SSN(X) could cost from $6.2 billion to $7.2 billion each based on assuming a displacement 11 percent larger than Seawolf-class and dependent on production rates overlapping with the Virginia-class.
Navy officials have said they want SSN(X) to be an "apex predator," so it would be faster, stealthier and carry more torpedoes than the current Virginia-class boats while also including a vertical launch capability. 
A December Congressional Research Service report said this translates into the Navy wanting the speed and payload of a vessel like the Seawolf-class attack submarine, sensors and acoustic quietness qualities of a Virginia-class submarine and the service life and operational availability of a Columbia-class ballistic missile submarine design.