The Chief of Naval Operations (CNO) aims to keep the Navy's Force Structure Assessment (FSA) ongoing past the upcoming report while also admitting the service has not yet decided what comes after the Ford-class carriers and carrier-variant F-35C Joint Strike Fighters.
"When I came into this job we were doing a force structure assessment and the last one we did was in 2016. And that, of course, informs the 30-year shipbuilding plan. And so based on what the [Commandant of the Marine Corps Gen. David Berger] wrote in his guidance, I approached him about presenting to the secretary a proposal that we do an integrated force structure assessment," CNO Adm Mike Gilday said at a U.S. Naval Institute conference Thursday.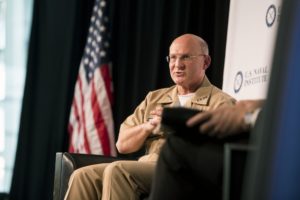 Gilday underscored n this integrated assessment Navy and Marine Corps analysts are working together and using the same joint scenarios the Chairman of the Joint Chiefs of Staff is using for global integrated exercises. He also said he aims for the FSA to be updated annually, and not just every three years or so as mandated from leadership.
"My goal, my aspiration, is that that force structure analysis not sit on a bench for three years but that we continue to update that every year through experimentation, through the investments we're making," Gilday continued.
"I would say modest investments and calculated investments in unmanned experimentation right now so that it actually informs our investment every year in a responsible way."
However, the service has not decided what the future platforms will truly look like going past Ford-class carriers and generally adding unmanned vessels.
Beyond the core Navy-Marine Corps integration, "the other thing we're introducing in this integrated force structure assessment is unmanned. So typically, a force structure assessment is completely cited on programs of record, but I know that the future fleet…has to include a mix of unmanned," the CNO said.
Regarding the overall future Navy ship mix when it comes to manned versus unmanned vessels, "I do remain fairly agnostic about what that mix means and looks like, but I do know…we do need to change the way we're thinking."
He said the current fleet is too small with capabilities stacked on too few ships that are too big.
"We can't continue to wrap $2 billion ships arounds 96 missile tubes and think we can do that in the numbers that we need to in order to fight in a distributed way against a potential adversary that is producing capability and platforms at a very high rate and speed," Gilday continued.
Gilday conmfirmed he thinks the Navy will need an aviation combatant in the future but does not know what it looks like yet.
"I think there's going to be a requirement to continue to deliver seaborn-launched vehicles through the air that will deliver an effect downrange. I do think that that will likely be a mix of manned and unmanned. The platform they launch from – I'm not sure what that's going to look like," the CNO said.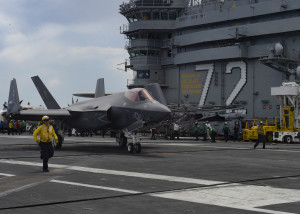 He added the Navy will continue to investi in undersea ballistic missile capabilities and the service will need the right mix of surface and undersea manned and unmanned vessels as well as logistics platforms to support a distributed fighting force.
Gilday said he has not decided how big the next post-Ford-class carriers will be, "that will come over time. But, no, I don't have a predisposed notion of how big it ought to be."
Howeever, he emphasized that 75 percent of the current fleet will be in the fleet of 2030, "so we have to think about how we get more out of it."
Given the changes and timelines, "we've made significant investments in aircraft carriers and we're going to have those aircraft carriers for a long time."
Therefore, Gilday intends to bring back annual fleet exercises "because we have to wring more out of what we have today in terms of how we're going to fight with it."
"There are alternative CONOPS that we have to develop and that we then have to test. And we're not going to do it during certification in carrier strike groups for combat deployment. We have to do that in big scale exercises. That's what we did yrs ago, we need to go back to experimentation. That's where we're going to experiment with unmanned. That's where we're going to experiment with new capabilities. We absolutely have to do that. And then to leverage that and where we're going in the future."