A Navy official said it is gradually installing Unmanned Aviation Warfare Centers (UAWCs) on aircraft carriers as they go through maintenance and overhaul periods.
Speaking during the annual Surface Navy Association symposium last week, Capt. Charles Ehnes, In-Service Aircraft Carrier program manager, said the Navy is merging carriers with various future air wing components, particularly the UAWC, to be used with the MQ-25A Stingray unmanned tanker and any follow-on unmanned carrier-based aircraft.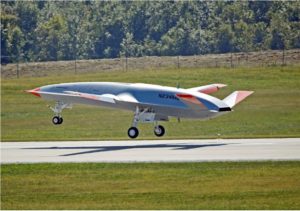 The UAWC changes involve "the repurposing of a space on the ship to basically be a control room from which you can send and receive data from unmanned systems and you give them in-flight updates and whatever else is needed," Ehnes said.
While MQ-25 and the UAWC have their own program office, Ehnes noted, "I'm making necessary modifications to the space when it comes to heating, ventilation, etc., to accommodate that as well as getting it plugged in to the intra communication networks of the ships."
Ehnes noted future aviation integration, including the MQ-25A, is one of the top modernization focus items for his office, along with cybersecurity, additive manufacturing and the modular refrigeration system.
Future air integration includes hull, mechanical and engineering work on the UAWC; ARC-210 radios for UAWC; MQ-25 ultra-high frequency (UHF) line of sight topside antenna; jet blast deflector with side panel cooling and orifice mods; lithium-ion battery handling and storage; F-35 pilot equipment and helmet storage; V-22 Osprey fire wand clips; V-22 blade storage; and CMV-22 space modifications.
The MQ-25 is being built by Boeing [BA] and its test asset, T-1, conducted its first autonomous test flight in September (Defense Daily, Sept. 20).
The Navy plans to use the MQ-25 primarily as a carrier-based for aerial refueler, with limited intelligence, surveillance and reconnaissance (ISR) capabilities as a secondary use. The service plans to eventually procure 72 aircraft after the initial four engineering and manufacturing development (EMD) aircraft.
The Navy expects the first EMD aircraft to be ready in 2021, delivered to the service's Patuxent River. Md., facility before testing onboard a carrier. Carrier-based tests during sea trials are planned for 2022-2023 while the service plans to reach initial operational capability in 2024.