Boeing [BA] on Thursday said its HorizonX Ventures arm is part of a $15 million financing round for Fortem Technologies, a developer and manufacture of radar systems that enable unmanned aircraft systems (UAS) to safely fly beyond visual limits.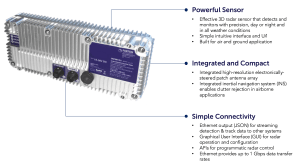 Boeing doesn't disclose the investments HorizonX makes other than to say they take minority stakes that range between the single millions of dollars to the low double-digit millions. Fortem, which is based in Utah and has just under 100 employees, said its $15 million Series A funding round was led by the venture capital fund Data Collective, Boeing, Mubadala Investment Company, Manifest Growth, New Ground Ventures, and founding investor, Signia Venture Partners.
Fortem's key product is its TrueView radar, which the company touts for being compact, low-cost, low-power and low weight, and is made for use on unmanned and manned aircraft to enhance safety. For UAS applications, the radar helps detect and avoid other aircraft and airborne objects beyond visual line of sight (BVLOS).
The investment is the second by HorizonX in autonomous technology. The company previously invested in Near Earth Autonomy, which develops sensors and software for unmanned aircraft to map and survey terrain and infrastructure. A Boeing spokeswoman told Defense Daily that the stake in Fortem complements the investment in Near Earth Autonomy by "helping unmanned aircraft safely navigate the airspace."
Dennis Muilenburg, Boeing's chairman, president and CEO, tweeted that the detect and avoid capabilities his company is investing in with Fortem will ensure "safer skies."
Timothy Bean, Fortem's CEO, said in a statement the new investment means the company "can scale more quickly to simultaneously improve airspace safety and secure critical infrastructure." He added that "by cracking the difficult BVLOS challenge, we unlock emerging forms of flight, including everything from autonomous air taxis to life-saving deliveries."
Fortem already has customers for its TrueView radar including the UAS-based air taxi Xwing, Boeing's Insitu unit for UAS-based emergency response applications, and ACSS, a joint venture of L3 Technologies [LLL] and France's Thales, for manned helicopter applications, a company spokeswoman told Defense Daily.
TrueView has military and commercial applications, the Fortem spokeswoman said via an email response to questions, adding that the product was hardened in work with the military over six years before being introduced to the market.