The Missile Defense Agency on Tuesday awarded Boeing [BA] a $5 billion five-year contract for the system integration, test, and readiness (SITR) work on the Ground-based Midcourse Defense (GMD) system, the second piece in a new management structure.
According to the announcement, under this work Boeing will be responsible for overall GMD Element engineering, integration, planning and execution of all needed testing to verify requirement compliance.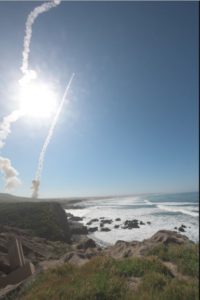 The integration includes "physical and logical integration of the GMD Element and components and GMD integration with the Missile Defense System."
The GMD system is the missile defense system with Ground-Based Interceptors based in Fort Greely, Alaska and Vandenberg Space Force Base, Calif., that aims to defend all 50 U.S. states from a limited number of intercontinental ballistic missiles, like the kind North Korea has.
Under this SITR contract, Boeing will also be responsible for day-to-day system operations and readiness, routine maintenance, analysis related to GMD Element health and availability and execute failure/fault checklists as appropriate.
Boeing previously held the previous overall development and sustainment contract (DSC) for GMD for over 10 years and in March MDA said it planned to extend the work into 2024 (Defense Daily, March 8).
After years of exploring options to change the DSC structure, MDA decided to split the future GMD contracting architecture into five separate contracts, called GM Futures. The contracts include GMD Weapon System (GWS) program for new systems, this SITR piece, and three sole-source contracts to cover the in-service fleet (Defense Daily, April 21, 2021).
Last month, MDA awarded Northrop Grumman [NOC] a $3.3 billion contract for the GWS management portion (Defense Daily, Aug. 1).
The $5 billion value in this SITR contract is the maximum dollar amount under this indefinite-delivery / indefinite-quantity contract. At the time of award MDA also issued a task order for $507 million, under this contract vehicle.
Work under this contract will primarily occur in Huntsville, Ala., with an ordering period lasting from September 2022 – August 2027.
In the announcement, the Pentagon noted this contract was competitively procured with three proposals received.