The Army's new Contested Logistics Cross-Functional Team (CFT) is likely to reach full operational capability (FOC) before the end of 2023, a lead Futures Command official said on Tuesday.
Willie Nelson, Futures Command's deputy to the commanding general, during remarks at the Space & Missile Defense Symposium in Huntsville, Alabama detailed the initial priorities the Army has directed the Contested Logistics CFT to focus on, including efforts to leverage artificial intelligence and machine learning and getting after increased fuel efficiency.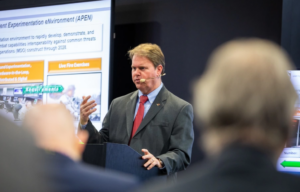 "The exact focus areas are still being hammered out, but here's a short list of areas the newest CFT will likely address," Nelson said. "The first one focuses on precision sustainment, and that really means rapid, data-driven, resilient logistics that leverages advances in machine learning and AI. The second area is demand reduction, leveraging hybrid engines, alternative fuels, etc. and new materials to reduce weight and delivery times. The third one focuses on new distribution platforms, both manned and unmanned, on the ground, in the air and on the water and autonomous logistics operations, such as automated ports and refueling operations. And, finally, advanced power generation that aims to reduce our consumable demands, such as liquid fuels and batteries on the battlefield, and leverage new technologies to achieve greater efficiencies across the force."
Gen. James Rainey, head of Army Futures Command, in late March announced the stand up of the new Contested Logistics CFT, which is based at Redstone Arsenal in Huntsville (Defense Daily, March 29).
"This CFT is going to be focused on tactical, so think division and below, aspects of all things that have to do with contested logistics. So we know we've got to get better at this problem," Rainey said at the time. "We're putting it in Huntsville because Gen. [Charles] Hamilton, [head of Army Materiel Command] has the operational-level contested logistics problem and the strategic-level with the industrial base, so where else would you put the folks that are going to work on the division and below for that."
Nelson confirmed the new CFT has already initial operational capability, while reiterating the focus areas he detailed "are not final" and "may grow or change" as the new organization approaches the FOC designation.
"I fully expect, quite frankly, this list to ebb and flow a little bit. I think it'll grow a little bit. I think the team will get dug in. I think some of these smaller ideas will get taken away and, like the rest of the CFTs, they'll be left with some main [lines of effort] that the Army's agreed those are the main tactical areas we need to pursue," Nelson said.
Rainey has previously confirmed he's conducting a review of Futures Command's CFTs, which bring together officials from different Army organizations to focus on specific modernization initiatives such as Future Vertical Lift and Next-Generation Combat Vehicles, with the effort potentially resulting in the formation of new CFTs.
"Indisputably, one of the things we absolutely got right as an Army with AFC was the CFTs. [They're about] identifying a clear problem, scope it and dogpile talent on it from all the stakeholders. My interest in CFTs is how do we make sure we follow through on what they're doing and then capitalize on this good approach to generating transformational activities for us as we go from [2030] to [2040]," Rainey told reporters in March. "It's about capitalizing on something that works, not fixing something that's not or a lack of emphasis or importance on the CFTs."