The Army has requested a $178 billion budget for fiscal year 2023, a slight increase of $2.8 billion over the current spending level, with cuts to several procurement lines for enduring programs to maintain the service's modernization momentum.
The service is seeking $21.3 billion for procurement in FY '23, down from $22.8 billion enacted for FY '22, with officials noting reductions in funding were directed at planned enhancements for programs such as Bradley and Stryker vehicles and Abrams tanks.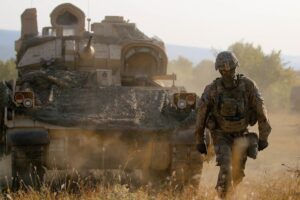 "The procurement and research, development, test and evaluation (RDT&E) request of $35 billion allows the Army to maintain momentum of our modernization efforts as we continue our transition from irregular warfare to strategic competition," Director of the Army Budget Maj. Gen. Mark Bennett told reporters, with that figure split between the $21.3 billion requested for procurement and $13.7 billion for RDT&E.
Senior Army leaders in recent months have reiterated the service's commitment to its wide-ranging modernization portfolio, to include noting that 24 of the Army's more than 30 new signature systems will be delivered in some form in 2023 (Defense Daily, March 8).
For procurement and RDT&E spending on modernization programs, FY '23 budget request documents released Monday detailed plans to invest nearly $2 billion in the new Unified Network, $979 million in Future Attack Reconnaissance Aircraft development, $807 million for the Long-Range Hypersonic Weapon, $590 million for Optionally Manned Fighting Vehicle program, $409 million for the Mid-Range Missile capability effort, $376 million for Next-Gen Squad Weapon and $260 million for the Precision Strike Missile.
In total, 82 percent of the Army's science and technology spending in the request is aligned with its modernization programs.
The 6.5 percent reduction in the Army's procurement includes decreases in aircraft procurement, calling for $2.8 billion down from $3.3 billion in FY '22, and $3.6 billion for "weapons and combat tracked vehicles," down from $4.3 billion in FY '22.
"The reduction in roughly $500 million is due largely to the one-time funding in the Gray Eagle, UH-60 and CH-47 aircraft programs," Bennett said of the aircraft procurement cut.
The Pentagon on Monday did not release full justification books that provide detailed spending breakdowns in the budget request, while those will provide a greater fidelity into the level of cuts when released within the next few weeks.
Budget overview documents did note, however, the Army plans to buy 35 remanufactured AH-64E Apaches, up from 29 in FY '22, while the service plans to procure 25 UH-60M Black Hawks compared to 33 in FY '22.
For new combat vehicle platforms, the Army is seeking to buy 72 BAE Systems-built Armored Multi-Purpose Vehicles and 28 Mobile-Protected Firepower light tanks, a program that is still in competition.
"The [AMPV] schedule was re-baselined due to production start-up issues and pandemic impacts, which is why there were none in FY '22 and now 72 requested in [FY] '23," Bennett said.
The Army's budget request does include slight boosts to its missiles procurement and ammunition procurement accounts, noting it's associated with increased buys for the Joint Air-to-Ground Missile and Missile Segment Enhanced missile programs and ongoing efforts to upgrade ammunition manufacturing plants.